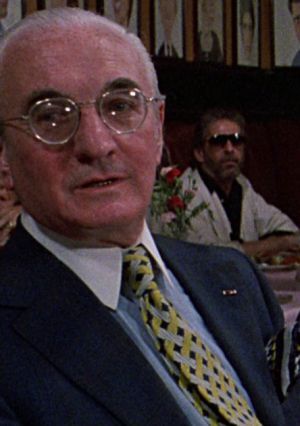 Milton Seaman (1914-1985) was an actor who appeared in The Muppets Take Manhattan as one of the customers at Sardi's (sharing a table with Wade Barnes). When the rats make their presence known, Seaman picks up a fork to fight back.
Seaman was a retired colonel in the United States Air Force who subsequently became an attorney. He served as the first liaison officer to the Air Force Academy and served on the National Advisory Council for the Center for the Study of the Presidency and Congress.[1] In his later years, he appeared occasionally in films shot in New York, usually in minor or background roles, as in Easy Money (as a boardroom lawyer), Woody Allen's Purple Rose of Cairo, and the unreleased 1984 comedy Nothing Lasts Forever (with Imogene Coca and Dan Aykroyd).
Sources
↑ "Memorial Minutes." Presidential Studies Quarterly. Vol. 15, No. 3. (Summer, 1985). pgs. 661-662
Community content is available under
CC-BY-SA
unless otherwise noted.