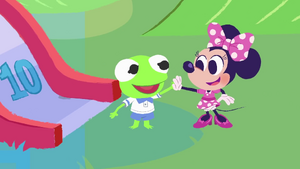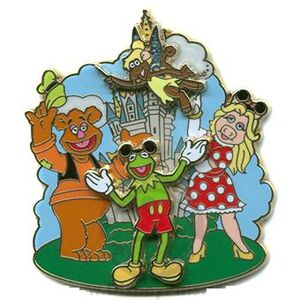 Minnie Mouse is a Disney cartoon character and longtime girlfriend of Mickey Mouse. She made her debut in Steamboat Willie and appeared in theatrical cartoons as a damsel-in-distress supporting role. Her first starring role was in the 1988 television special Totally Minnie.
Appearances
References
The Pig of the Nineties marketing campaign proposed a romantic split between Kermit the Frog and Miss Piggy. One of the planned promotional appearances was to have included the former couple sparring during an interview where Piggy bemoans the fact that Kermit has been spending a lot of time with the likes of Minnie Mouse and Jessica Rabbit.
In Sesame Street Stays Up Late, during the second Israel segment, one of the girls is wearing a Minnie Mouse shirt. Shortly later in the Germany segment, another girl dresses up as Minnie Mouse.
On September 7, 2007, following Disney's purchase of the Muppets, a pin was released for sale only at Walt Disney World, featuring Kermit as Mickey Mouse, Miss Piggy as Minnie Mouse, Fozzie Bear as Goofy and Rizzo the Rat as Tinker Bell.
External links