The following is a list of commercials and other advertisements which contain minor mentions of the Muppets, Sesame Street, or Jim Henson.
Cingular Wireless
A 2000 commercial for the wireless company featured an audio clip of Kermit's catchphrase "Kermit the Frog here," along with other famous quotes.
Delta Faucets
A portion of the Sesame Street song "Hands" was used in a 2009 commercial. No visuals appeared, only the vocals of Jerry Nelson as The Count. (YouTube)
Get Out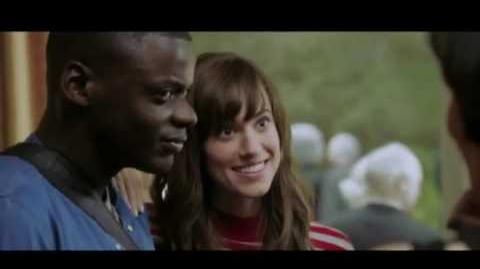 A 2017 horror film that follows a young interracial couple who visit the mysterious estate of the woman's parents.. A TV spot for the film features a slow sung, eerie rendition of the song "The People in Your Neighborhood."
Connections
Hooked on Phonics
A 1998 commercial for the famous reading-education product began with a shot of a girl reading a Sesame Street book, with Ernie visible on one of the pages.
NFL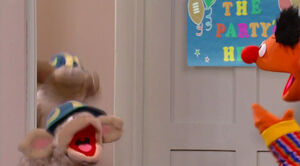 A very brief clip from a Sesame Street sketch with Ernie and some sheep appeared in a commercial first shown during the 2011 Super Bowl. The clip was digitally altered to include St. Louis Rams football caps on the sheep and a sign on Ernie's door.
The commercial also contained segments from Happy Days (with Henry Winkler and Ron Howard), Beverly Hills, 90210, Seinfeld (with Michael Richards), The Office, The Sopranos (with James Gandolfini and Tony Sirico), Cheers (with George Wendt), The Golden Girls (with Betty White), Full House (with Dave Coulier), The Dukes of Hazzard, Family Guy, Family Matters, The Brady Bunch, ALF, How I Met Your Mother (with Neil Patrick Harris and Jason Segel), Friends, Glee, Modern Family, The Simpsons, and South Park.
Community content is available under
CC-BY-SA
unless otherwise noted.