The following is a list of Muppet Mentions made in TV shows outside of the Henson/Sesame fold, which are too brief or minor to constitute having their own page in the TV Mentions category. Spinoffs and other related shows are included on the main series article. See also: Minor Movie Mentions.
Episode titles
Over the years, episodes of TV shows have referenced Muppet characters or projects in the titles only.
6teen
An animated Canadian sitcom set in the fictional "Galleria Shopping Mall" and starring an ensemble cast of six sixteen-year-old friends as they explore their first part-time jobs and lives as teenagers.
In the episode, "Boo, Dude," Jen Masterson has to dress up as a pig for Halloween at her job and one guy says, "Yo, Miss Piggy, digging the snout, man."
According to Jim
In the season 8 episode "Two for the Money," Jim tells Cheryl that he took the twins to the art institute and mentions some exhibits they saw. Andy pulls Jim aside and asks him where he knows all that stuff from. Jim tells him that Elmo and Big Bird from Sesame Street went to the museum.
Connections
Adam Ruins Everything
Adam Ruins Everything is a TruTV comedy series in which Adam Conover dispels commonly held misconceptions using humorous skits and thoroughly cited research. The concept started as a web series on the CollegeHumor site before spinning off into its own series.
In the season 1 episode "Adam Ruins Summer Fun," Huey's World is similar to Sesame Street along with parodies of Big Bird, Cookie Monster and Count von Count.
In the season 1 episode "Adam Ruins Going Green," the little girl mentions Oscar the Grouch.
In the season 2 episode "Adam Ruins His Vacation," a character reacts to the name "Gutzon Borglum" (the sculptor of Mount Rushmore) by saying it "sounds like some Swedish Muppet's death rattle."
Alexa and Katie
In the first season episode "Support Group," a nurse (speaking as Kermit the Frog), talks to Michelle: "Hey Michelle, Kermit the Frog here to take you to your room!"
In the same season episode "The Role Play - Part 2," Katie asks Ryan "And what is that accent that she's doing for Lady Montague?" and he replies: "I have no idea! It's like British with a hint of Muppet, you know?"
Alice
In the second season episode "The Sixty Minutes Man," Alice asks Mel Sharples if he watched that episode of 60 Minutes on a mobster, and Mel replies, "And missed the Muppets."
Connections
All Rise
In the episode "Sweet Bird of Truth," Lola tries to solve a crossword puzzle clue: "Name a supreme who appeared on Sesame Street." Sherri thinks the answer is Diana Ross, but Lola figures out the real answer, Sonia Sotomayor.
The name Elmo is used in a question for Ness' bar exam in the episode "Leap of Faith".
Connections
Alone Together
In the pilot episode after Benji's sister fires her for being an escort, Charlotte meets up with Benji, and they agree to have vodka, she tells him she'll have a vodka cranberry and he'll have a "vodka vodka," he replies "vodka vodka vodka," she looks confused and he informs her "it's a Fozzie Bear joke."
The Amber Ruffin Show
On the June 25, 2021 broadcast, Ruffin's Week in Review included this dialogue: "Finally, the TV show Sesame Street recently introduced a new family that consists of two gay dads and their daughter. That story again, Bert and Ernie now have a daughter."
Aqua Teen Hunger Force
In the episode "Circus," Master Shake exclaims "Wocka Wocka" during his act.
Connections
Ash vs. Evil Dead
The Starz series picks up 30 years after the events of the Evil Dead movies.
In the second season episode "Delusion," Ash (Bruce tries to escape an asylum. When he opens the cell door to where Kelly (or rather an illusion of her) is held, she says "What the Fraggle Rock is that thing?" referring to the Ash puppet that Ash is holding.
In the following episode, "Ashy Slashy," the real Kelly is trapped with the animated Ashy Slashy puppet inside the same room where Baal held Ash. When it attacks Kelly, it attaches itself to her arm. Kelly then says "Ah, why am I talking to a Muppet?" The puppet is shocked and says "Muppet?! Uh, well, you're awfully judgmental for a..."
At Home with Amy Sedaris
Connections
Back to You
In the series pilot, Marsh McGinley recalls one wild time when he and Chuck Darling hung out with two skater girls with gorgeous legs, who were dressed up as characters on Sesame Street on Ice. Marsh recalled that Chuck banged Bert and Chuck replied, "That particular night was brought to you by the letter O."
Connections
Better Off Ted
The Big Comfy Couch
In the season 4 episode "The Hit Parade," Granny Garbanzo gets a package from the Puppet of the Month Club saying "Last time I got a green frog!"
Connections
The Bill Engvall Show
In the episode "Car Trouble," Bryan Pearson gets in a fight at school, and tries to get his parents to not call the school because they'll embarrass him. Lauren Pearson points out that he has an Elmo lunchbox and is worried that his mother will embarrass him. Bryan points out that "The Muppets are timeless!"
Bless This Mess
In the pilot, Rudy tells Rio about his friend Bun having a nightmare about his ex-wife having sharp teeth and dressed like Big Bird.
Connections
Rita Moreno played Theresa in "The Estonian Method," "The Grisham Gals" (2019), and "The Letter of the Law" (2020)
Dax Shepard plays Mike and is co-executive producer
Brockmire
In the first season finale "It All Comes Down to This," Charles asks Brockmire "So, this, uh.. this apartment your'e getting in New Orleans. I am assuming it's a two-bedroom, 'cause I don't know if I can handle a Bert and Ernie, twin-bed situation."
In the season two premiere episode "The Getaway Game," Brockmire refuse to recognize the local mascot performer as a superstar. Instead, Brockmire describes him as "...a mime in Muppets' clothing."
Connections
Bunheads
Connections
California Dreams
In the fourth season episode "Two Too Much," Tiffani Smith introduces her date, Bruce, to her friend, Jake Sommers. Bruce replies that they only have a few minutes because they have expensive tickets to "Muppets on Ice." Big Bird and Mr. Snuffleupagus are mentioned in dialogue.
Codename: Kids Next Door
Codename: Kids Next Door was an animated show on Cartoon Network which aired from December 6, 2002-January 21, 2008.
In "Operation R.A.B.B.I.T.," there was a magical bunny named Mr. Fluffleupagus whose name is based on Mr. Snuffleupagus.
Connections
Comedy Bang! Bang!
Comedy Bang! Bang! (2012-2016) is a television series created and hosted by Scott Aukerman, featuring his co-host/bandleader Reggie Watts (seasons 1-4) and "Weird Al" Yankovic (season 5). The mock talk show aired on IFC and features farcical humor often delivered in a deadpan manner.
Connections
Comedy Central's Last Laugh
Last Laugh 2005 was a TV special that aired on Comedy Central and opened with a number by William Shatner as The Devil.
In a public service announcement sketch spoof concerning the possible threat of the Avian Flu, a red bird puppet named Burt Flu teaches viewers about the disease, how to avoid it, and what they should and shouldn't do (demonstrated by child actors and some adults). Burt then says that his brother "Big Bird" Flu will give out a list of more do's and don'ts. The camera cuts to a park where "Big Bird" Flu (full-body puppet like Big Bird of Sesame Street) is seen almost featherless, shaking, coughing and falling to the ground.
The Cool Kids
In the episode "The Cool Kids Rig an Election," Margaret tries to help Sid run for activities coordinator in the upcoming election by trying to get Sid to be mean. Sid says he wants to be a fun and singing lizard mascot like Kermit and Margaret corrects him that Kermit is a frog.
Connections
Dave's World
In the series pilot, Shel ask Beth if it is the breast that makes them good with kids. Kenny tried to bring up another subject relating to breast, but Dave tried to stop him from talking about it. Kenny replied back, "Oh I'm sorry. If they're not on a Muppet, you people aren't interested."
In the episode "It's A Small Van After All," Dave tries to keep the family happy in the van ride to Walt Disney World. He mentions some CDs to listen to, including "Sing Along with Kermit."
Connections
Degrassi: The Next Generation
In the episode "Ghost in the Machine, Pt. 2," Ashley Kerwin and Craig Manning are having a discussion about their rock band and fellow bandmembers.
Ashley: You know, you guys should try going a little more post-Emo. Still punk, but less mopey.
Craig: I don't think the other guys even know what regular Emo is. Spinner probably thinks it's a Muppet.
In the episode "Ladies' Night," Anya tricks Holly J. Sinclair into devouring a double chocolate chip cookie during a fast for charity, during which Holly is also secretly videotaped and shown to an auditorium. Later when Holly J. comes to speak in the auditorium, Anya introduces her with "It's the Cookie Monster!" A student in the audience taunts her in a gruff monstery voice, "Holly J. hungry!"
In the episode "99 Problems, Pt. 1," while studying the scarcity paradigm, Riley says, "Look, there's Jess T, Jess M, Jess B, and then there's Fiona." Drew replies, "Wow! One of these things is not like the others."
Dexter
In the episode "Crocodile," Rita (Julie Benz) serves Dexter (Michael C. Hall) a plate of cookies and tells him that he is "snarfing them down like the Cookie Monster."
Connections
Diagnosis Murder
In the second part of the fifth season episode "Retribution," Canin is counting backwards when Steve surprises him. "I guess watching Sesame Street finally paid off for you, Canin. You count real pretty."
Disenchantment
In the episode "For Whom the Pig Oinks," Elfo is mistaken for Elmo.
Connections
Dispatches From Elsewhere
In the first season episode "The Boy," the titular character watches the beginning of the Steve Martin episode of The Muppet Show. Later the character says to Jason Segel, "If you need to write another Muppets movie, I'll be back."
Connections
Don't Trust the B---- in Apartment 23
In episode 6, "It's Just Sex," June donates some stuff of Chloe's to the rummage sale, and the woman at the desk finds love letters from a celebrity and says, "I had a suitor myself - Frederick Spitz." When June looks puzzled, she says, "The famous puppeteer. His hand manipulated a Muppet for 40 years."
In episode 13, "Sexy People," Chloe states that if People put Fozzie Bear on the cover, June would find him sexy (since she follows every "Sexiest Man Alive" issue).
Connections
The Drew Carey Show
In the season six episode "Drew Pops Something on Kate," Drew has lost his job and is unable to make payments on his engagement ring. He tells his friends Lewis and Oswald, "All Kate needs to see is me drinking a beer every morning and watching Sesame Street. Nothing like a drunk guy in his underwear singing about the letter E."
Connections
Drew Carey's Green Screen Show
In the first episode, during a game of "Freeze Tag," performers Greg Proops and Julie Larson appear to form a letter L. Jeff Davis reports to the camera, "Sesame Street has been brought to you by the letter L." Drew Carey then replaces Davis and adds, "Advanced Sesame Street has been brought to you by the isosceles triangle."
Duncanville
In the season 2 episode "Annie Oakie," daughter Jing chants "Dead Elmo, dead Elmo" to induce crying on demand. (YouTube)
Connections
The Edge
A single-season sketch comedy show, featuring Jennifer Aniston, Tom Kenny, and Wayne Knight.
All episodes included "Right This Minute", which looks at the current activities of notable people. In the episode "Show 5", the announcer intones "here's what ALF is doing right now," before showing a stuffed toy of the character (implied to be the puppet) lying inanimately on an alleyway garbage can. After another clip, they look at what Oscar the Grouch "is doing right this minute." Showing the same trash can, he says "get the hell out of here, Alf."
The Eric Andre Show
A comedy/talk show on Cartoon Network's Adult Swim programming block, starring Eric Andre and Hannibal Buress.
In the 2012 special "The Eric Andre New Year's Eve Spooktacular," when comparing his appearance to that of guest Demi Lovato, Eric says, "Next to you, I, at best, look like Jar Jar Binks if he was a burn victim, and Hannibal looks, at best, like Bunsen from The Muppet Show if he was in blackface."
The final scene of the Season 5 finale episode "The 50th Episode" parodies the Rainbow Connection finale from The Muppet Movie, specifically starting from the "Life's like a movie, write your own ending" verse.
Eureka
The 12th episode of season 3 is titled "It's Not Easy Being Green." After members of a bowling team are turned green as a prank by the opposing team, Tess Fontana says that it's a pretty color. Sheriff Jack Carter replies, "Yeah, if you're a Muppet." Later during an argument, a bowler calls one of his green opponents, Kermit.
Connections
Colin Foo played a retired scientist in "Dr. Nobel" (2006)
Matt Frewer played Jim Taggart (2006-2007, 2009)
Extras
A British sitcom about film extras, created by Ricky Gervais and Stephen Merchant.
In episode 2.4, Darren Lamb and Barry discuss Crazy Frog.
Darren: I'd have thought he's probably the second-richest frog in the world, after Kermit.
Barry: Kermit, yeah! There was his nephew, Robin...
Darren: Ah, Robin was good.
Barry: Looked set to take over the empire for a while, didn't he.
Darren: Oh yeah, he was a very good actor, and singer.
Barry: "Halfway Up the Stairs."
Darren: Good song.
Foster's Home for Imaginary Friends
The episode "Cookie Dough" shows Frankie's obsession with Madame Foster's cookies; in one cutaway, she is seen devouring boxes of cookies, screaming "Cookie, cookie, cookie! Me love cookies!"
Connections
Get a Life
At the beginning of the pilot episode, Chris realizes he's missed Fraggle Rock soon after he wakes up in the morning.
Girls
In the sixth season episode "Gummies":
Hannah: Have you seen my mom?
Elijah: You lost Loreen?
Hannah: Elijah, she's high on pot gummies, okay? She left all my laundry on the stoop. Look, this is her dress! She could be being sex-trafficked for all I know!
Elijah: What is this, The Muppets Take Manhattan?
Connections
Girls5Eva
In the episode "D'wasg," Scott mentions that their son was at a birthday party for so long "he saw the Elmo get in his car and go home."
In the episode "Alf Musik," Dawn suggests she and her son dance "The Elmo Slide."
In the episode "Cease and Desist," Summer claims she bought her "Obergefell V. Hodges" t-shirt because she thought the names were "those two old mean Muppets."
Connections
Glitch Techs
A Netflix series about teenagers who fight video game glitches.
In the second season episode "BUDS," Bergy's roleplaying character Dark Christa is a reference to The Dark Crystal.
Connections
GLOW
A Netflix series built around the 1980s women's wrestling circuit.
In the second season episode "Rosalie," Bash Howard mentions The Muppets Take Manhattan to Debbie Eagan. He brings this up with the intent to start a whispering campaign to save the show, much like the rats did with Kermit at Sardi's. After their efforts appear to have worked, Debbie says she would like to send Jim Henson a fruit basket.
Good Girls
In the episode "Egg Roll," Annie says that, as a kid, she wanted to spend Saturday mornings with "nine bowls of cereal and Muppet Babies."
Connections
Grace and Frankie
In the season six episode "The Trophy Wife," Frankie describes her outlandish outfit by saying, "I was going for a Thunderdome meets Floyd Pepper from the Muppets vibe."
Connections
Halt and Catch Fire
AMC drama about the rise of the computer industry. In the second season premiere "SETI," Joe MacMillan mentions that he got Big Bird during a game around a campfire.
Hang Time
In the third season episode "Sexual Harassment," Minnie asks Danny, Teddy, Michael and Vince if they want tattoos of Kermit or Big Bird.
Connections
Heroes
When Claire researches her birth parents in the first season episode "The Fix," she and her friend Zach find a newspaper article from Kermit, Texas. When Zach wonders why that sounds so familiar, Claire replies, "`Cuz of the frog?"
Connections
Hollyoaks
On the November 19, 2019 episode, Sienna Blake argues that the best Christmas movie of all time is not Die Hard but The Muppet Christmas Carol. In a post-credits scene, she sits down to watch the film and remarks "The Ghost of Christmas Past is such a creepy child..." This is a nod to actress Jessica Fox, who plays Sienna's rival Nancy Hayton and provided the voice of the Ghost of Christmas Past in the film.
Connections
The Hollywood Puppet Sh!t Show
In the premiere episode, the Wilmer Valderrama puppet explains that he's a marionette, not a puppet. He then says "You ever seen Kermit do this?" while doing a dance move with his groin.
Connections
Hope and Faith
Connections
Hustle
The fourth episode of the BBC series features Robert Vaughn's character standing in front of a store with a Tutter doll in the window display.
Indebted
In the episode "Everybody's Talking About Neighbors," Dave says that being a part of a community being an important part of life sounds like something he's heard throughout the years on Sesame Street.
Connections
K.C. Undercover
In the Season 3 premiere "Coopers on the Run," the Coopers take a mission to detain an illegal bird smuggler who goes by the nickname "Big Bird."
Connections
The Kids Are Alright
Connections
Kids in the Hall
In one sketch from season 5, a little boy is waiting for the Chicken Lady (Mark McKinney) to finish riding a quarter horse at the mall. He asks "Are you Big Bird?" and the Chicken Lady replies, "No, but I want to meet him, 'cause the Bearded Lady says they call him Big Bird 'cause he's got a really big--" at which point the boy's mother prevents the Chicken Lady from finishing the sentence.
Connections
Kim's Convenience
In the episode "Appa's First Text," Mr. Mehta offers to send Appa some GIFs to his new smartphone. Appa waves this off, claiming he's already seen "Kermit drinking tea."
A 2021 episode was titled "Cookie Monster."
Connections
The Knights of Prosperity
"Pilot" - When Eugene wants to enter the building to find out which key fits Mick Jagger's apartment, Esperanza has to distract the doorman that stays behind, while the other doorman goes for a cup of coffee. When he leaves the building, this is referred to as "Big Bird has left its nest."
The L.A. Complex
In the episode "Help Wanted," Nick Wagner refers to his boss Scott Cray, who allowed him to take the blame for bringing drugs to work and get fired for it, as "...a Muppet without its fur."
In the episode "Make It Right," Raquel Westbrook refers to the two filmmakers Cam and Kevin as "Bert and Ernie."
The Last Man on Earth
In episode 6 of season 2, Carol lists the pros and cons of having a baby in the new post-apocalyptic environment. One of the cons she lists is "No Sesame Street."
In the season three episode "The Spirit of St. Lewis," just before Lewis is about to take his first flight, Phil tries to encourage Lewis by saying famous people's names and puts Lewis name at the end: "Nelson Mandel, Jim Henson, Hamilton, the guy who did Hamilton and Lewis."
Connections
Life in Pieces
In the third season episode "Waffles Permission Kidless Boyfriend," Tyler (who had his hair straightened at the mall) is told by a friend that "You look like a Sesame Street character."
Connections
The Listener
In the episode "Lockdown," Osman "Oz" Bey comforts the daughter of a quarantined patient with food. Leaving her with the plate, he suggests: "Can you keep an eye on them, make sure there's no Cookie Monsters running around?"
Liv and Maddie
In the episode "Sleep-A-Rooney," Liv is supervising Parker's sleepover and tells Parker's friends to come outside. Parker replies, "Okay, but if there is someone out there in an Elmo suit, I'm gonna lose it."
Connections
Living Biblically
In the episode, "Pilot," Chip Curry confessed to Father Gene that when he gets stoned, he eats a bunch of ice cream and Cheez-Its in Muppet style. Chip pretends to munch making the om nom nom sound.
Connections
Living Single
In the episode "Stormy Weather," Max is watching television and shouts, "I will tell you how to get to Sesame Street. You take Puke-Avenue."
Connections
The Loud House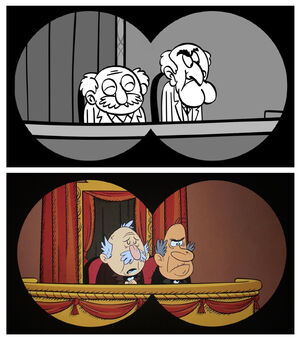 In the episode "Resident Upheaval," Lincoln and Bernie attend an opera performance. While Lincoln browses the auditorium through his opera glasses, two elderly men in a balcony seat are briefly seen, a reference to Statler and Waldorf.
Connections
Luther
Luxury Comedy
In "King Tutta," Noel calls Smooth "Fraggle"
Make It Pop
In the episode "Summer Splash," Sun Hi says "We're just musical puppets. And I'm no one's Muppet!"
Connections
Man With a Plan
In the episode "Hotel Hanky Panky," Kate asked her parents if she can invite her friends, Shelby and Winslow, over to the house and Adam replies, "The two old guys from the Muppets?"
In the episode "Adam and Andi See Other People," Don suggests Adam for couples dinner that they go to a jug band concert and names certain instruments in the band. Adam replies "So any instrument a Muppet would play?"
Connections
Maron
In the second season episode "Desert Road Trip," Marc Maron tells his friends that he's going to be a guest on Charlie Rose, and Andy Kindler mentions that Kermit the Frog has been interviewed by Rose.
Connections
The Mary Tyler Moore Hour
A Mary Tyler Moore vehicle which ran in 1979, and after the failure of Moore's variety show Mary, attempted to meld variety with a sitcom format ala The Mary Tyler Moore Show (even using the theme song), as TV star Mary McKinnon and her staff try to put on a show with a celebrity guest each week.
In the first episode, producer Harry Sinclair, relieved his wife's not pregnant, says "I'm too old to be watching Sesame Street!"
Connections
The Millers
In the episode "The Mother is In," the Miller family is about to watch a movie on TV, but their father hasn't ordered a movie yet. If he didn't pick, Debbie Miller's daughter, Mikayla, would make them watch The Muppets for the twentieth time. Debbie says Mikayla is too young to see Gonzo's nose. Somehow, Mikayla got the TV remote and the family had to watch The Muppets. The father replied that it is OK since the green frog is a hoot.
In the episode "Sex Ed Dolan," Carolyn talks about how she made Tom look good. "I learn how to dress him and how to steer him towards his best jokes. It's basically the technique that Jim Henson used to turn a pig into a movie star."
Connections
Monsters vs. Aliens
The 2009 Halloween special Mutant Pumpkins from Outer Space, spun off from the animated feature Monsters vs. Aliens.
When a little girl sees the Missing Link, she says "Look, mommy, it's Kermit!"
Connections
Mr. Mayor
In the episode "Brentwood Trash", Neil Bremer says no one likes trash except "Oscar the Grouch, sure, but he's a puppet being silly."
Connections
Mr. Show with Bob and David
In a sketch from the first episode, co-creator/actor David Cross breaks character to complain about the sketch, claiming that "HBO spent more money on Fraggle Rock."
Mr. Sunshine
In the pilot episode, Roman asks Ben if he knows the song "The Rainbow Connection."
Connections
Negima?!
Anime series (2006-2007). In episode 15, Zazie Rainyday says "Mah Na Mah Na" and Konaka Konoe replies "Do do do do do." Zazie and Mana Tatsumiya go on to say "Mah Na Mah Na."
The Neighborhood
In the episode "Welcome to the Recipe," Calvin says to Grover, "You got a lot of swag for a kid named after a Muppet."
In the episode "Welcome to the Scooter," Calvin says that when Marty and Malcolm were younger, they wanted a Tickle Me Elmo for Christmas.
In the episode "Welcome to the Road Trip," Tina says Calvin is a monster when it comes to road trips, to which Malcolm says "Not like a cute, fuzzy Muppet monster".
Connections
The New Adventures of Old Christine
CBS sitcom (2006-2010) in which divorced Christine Campbell deals with her ex-husband (who is now dating a "new" Christine) and family.
In the first season episode "The Other F-Word" (2006), Richard says of Old Christine, "You should've heard her in the car. The ride home was sponsored by the letter F."
In the fourth season episode "Self-Esteem Tempura" (2008), Christine Liesl Hunter (New Christine) says she was offered a role on Sesame Street when she was a kid, but her parents wouldn't let her, since she "had a Christian aunt who thought that talking monsters were the work of the devil."
Connections
The New Normal
The New Normal (2012-2013) is an American television comedy series in which a single mother is the surrogate for a successful gay couple.
In the pilot episode (originally aired on September 10, 2012), Jane Forrest launches a tirade explaining that Clay Clemmons' excuses had forced her to take drastic measures and seek a divorce.
Jane: (aiming what appears to be a lighter in the shape of a gun) You, Hello Kitty out.
Clay: Hey, that is a toy right?
Jane: You know something Clay. I have put up with you for the past nine years. I put up with your ridiculous Fozzie Bear impersonations, with your self diagnosed narcolepsy.
Clay: No, that's real, it's not just naps.
The Newz
The Newz (1994-1995) was a sketch comedy series that aired new episodes each weeknight. Its cast included Brad Sherwood, later of Whose Line Is It Anyway? It was filmed at Universal Studios Florida.
In one episode, Presidential candidate Bert (Tommy Blaze) is confronted by Ernie (Dan O'Connor). After the failure of Ernie and Cher: The Roadshow, he pressures Bert to choose him as his running mate. Bert has already The Count, while Big Bird is his foreign policy advisor. Ernie reveals that he has pictures of Bert selling secrets to the electric company. The skit is behind a wall, and Bert has arm rods. Oscar and Snuffy are also referenced.
Nobodies
Connections
Oh Madeline
Short-lived 1983-84 ABC sitcom starring Madeline Kahn.
In the episode "Ah, Wilderness," Madeline and her husband Charlie are stuck in the woods at night. They hear the sound of a bullfrog, which they affectionately refer to as "Kermit."
OK K.O.! Let's Be Heroes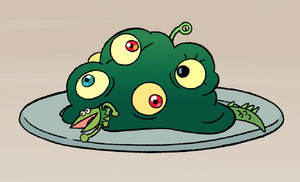 In the episode "Parent's Day," Enid's mom makes a stew that has Kermit the Frog in it.
Connections
Paradise P.D.
In the episode "Black & Blue," Robby and Delbert trade drugs for guns from a Russian mobster. Robby tells the mobster that he sounds like "That purple sumbitch who counts shit on Sesame Street." The mobster denies his resemblance and then counts the guns and laughs between each number, accompanied by thunder clapping.
The Russian became a recurring character, counting and laughing with thunder and lightning in the background.
Connections
Perfect Couples
In the first episode of the NBC comedy series, Amy attempts to play "Celebrity" on game night, and immediately bombs after giving a clue: "He's a Muppet ... he's a frog ..."
Perfect Harmony
In the episode "No Time for Losers," Jax says he calls Sesame Street "It's Okay if You're Gay if You Don't Acknowledge It." Ginny then asks Arthur "Were Bert and Ernie gay?" To which he says "totally."
Connections
The President Show
A 2017 Comedy Central program, featuring President Donald Trump (Anthony Atamanuik) as a talk show host.
On the November 2, 2017 episode, Trump plays "Six Degrees of Hillary Clinton." "Tremendous idiot George Papadopoulos pled guilty to lying to the FBI about communicating with Russia, during my campaign..." he begins, arriving on Clinton's email server, concluding "Look at that. George Snuffleupagus didn't lie to the FBI, it was Hillary Clinton."
Queer as Folk
In the U.S. episode "The Art of Desperation," Michael ask Brian what he is on and Brian replies, "Oh, E, K, G.H.B. Most of the letters on Sesame Street.
Connections
The Ray Bradbury Theater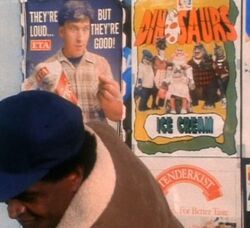 Anthology series which ran from 1985-1992, adapting short stories by Ray Bradbury. In "The Handler" (1992), a poster for Dinosaurs ice cream appears on a wall, behind a sweeping worker.
Connections
Reba
In the episode "The Good Girl," when Barbara Jean claims that she put a scratch in Van's car, and is worried about what he will say, Kyra says "It's true! He gets this look on his face where his two eyebrows merge together, and he looks like that Muppet who lives in the Trash Can!" (referring to Oscar the Grouch).
Connections
Rugrats
Animated television show that first aired on Nickelodeon in 1991. This series focuses on the point of view of a group of babies, including Tommy Pickles, Chuckie Finster, Phil and Lil DeVille, and Angelica Pickles.
In the episode "Toys in the Attic," Tommy's grandparents, Boris and Minka, argue over which one of them will turn on the "Sesame Seed" (Sesame Street).
Connections
Running Wilde
In the episode "One Forward Step," Steve suggests to Emmy that she use the laundry chute in the house, saying "You know there are people at the bottom of that thing? They've got their own subterranean world, kinda like Fraggle Rock."
Connections
A Russell Peters Christmas
Connections
The Sarah Silverman Program
In the last episode of the series starring Sarah Silverman, "Wowschwitz," Brian and Steve steal a gun from a cop and replace it with a banana. Referring to him as "Banana Cop" throughout the episode, the two sing a rendition of "Mah Na Mah Na" replacing the words with "Banana Cop." The episode ends with Sarah's dog going back in time to kill Hitler, preventing the Holocaust. In the present, an old man asks, "What never happened?" Brian: "The Holocaust." Steve: "Do doo do do do!"
Connections
Connections
Secret Mountain Fort Awesome
In the 9th episode titled "Labyrinth," Gweelok wishes that Jerry the Goblin King would come take his annoying friends away and realizes how much he misses them and has to enter the twisted world of the Labyrinth to rescue them.
$#* ! My Dad Says
In the series pilot, Ed has to retake his test for driver's license at the DMV. When Ed has to retake his eye exam, he says to the DMV applicator, Tim, that he shouldn't have to identify letters on the chart. Ed tells Tim that he has been driving for sixty years and that he has never been rear ended by a gigantic letter E. Tim replies, "Clearly you never driven down Sesame Street."
Connections
Single Parents
In the episode "Raining Blood," Will says he pictured small men with hard hats, "like the Doozers in Fraggle Rock."
Connections
Skatoony
In the episode, "Stoopid Santa," one of the questions was what Big Bird's color was. With the correct answer being yellow.
The Smoking Room
A British comedy first aired on BBC Three in 2004, focusing on the conversations of characters while on their smoke breaks, all shot inside their office's smoking room.
In episode 3, "Paintball," the manager's assistant Janet is trying to get other employees to sign up for a company paintballing event:
Janet: No, what I was getting at is - I hope [the sign-up sheet] doesn't end up covered in jokey names. According to the one downstairs, the only people planning to go paintballing are Marge Simpson, Osama Bin Laden, Barbara Windsor, and The Bear in the Big Blue House.
Solar Opposites
Connections
Space Force
In episode three of the Netflix comedy, Fuck Tony says to Dr. Mallory, "Scientists are weird. It's why you're the only Muppet that speaks nonsense. Even Animal uses words."
Connections
Speechless
In the Season 2 episode "The H-u-s-Hustle," Dylan finds the cookies that are supposed to be the road trip snacks. Ray tries to explain that there won't be anything to eat later. Ray tells her "Allow me to explain the concept of delayed gratification." Dylan replies "Allow me to explain the concept of eating like Cookie Monster" and starts to munch the two handfuls of cookies she has while making Nom sounds.
Sports Night
In the episode "The Apology," Casey asks Dan if the Muppets are cool. Dan replies that they are.
Connections
Square Pegs
In the episode "A Simple Attachment," Miss Piggy is one of the female celebrities that Johnny Slash doesn't have a romantic interest in while hooked up to a love detector.
Connections
Staged
In the episode "Bara Brith," Michael Sheen comments on David Tennant's face in photos, claiming it looks like a straight line, "like a Muppet."
Connections
State of Georgia
In the episode "Know When to Fold 'Em," Georgia Chamberlin (Raven-Symoné) and Jo are wearing chicken mascot-style costumes; Georgia quips "We look like Big Bird's illegitimate kids."
Another first season episode was titled "It's Not Easy Being Green."
Starstruck
The season one episode "Christmas" involves an exchange between two characters concerning weed brownies. Rose Matafeo's character, Jessie, refuses to eat them because, "Last time I had a brownie, I freaked out and watched Jim Henson funeral videos on YouTube." One guest at the party responds, "Jim Henson's dead?" (video)
Station 19
In season 4, episode 2, "Wild World", four members of the Alvarez family gather for a picnic outside.
Talking about an unseen character named Sergio, Sandra Alvarez says "he can't decide if he wants to be a dental hygentist, a flight attendant, of a rolfer -- whatever that it!" Johnny Alvarez interjects, "Hey, mi amor, Rowlf was that Muppet bear, the comedian bear? You girls loved the Muppets!" "The comedian bear?" Johnny: "Yes." "Papi, Rowlf was the dog who played the piano." "The musician dog, you might say."
Connections
Sunnyside
In the episode "Multicultural Tube of Meat," Griselda says Garrett has a meeting with the Times Square Off-Brand Elmos union. Later, Brady says he doesn't want to go to Moldova and hang out with "Dracula's grandkids counting all the time."
Connections
Kal Penn plays Garrett Modi and is co-creator and co-executive producer
Superstore
In the season 6 episode "Hair Care Products", Dina says to Demetrius: "Oh, right, sorry, I forgot. You don't like to lead, you prefer to sit to the side and make snarky comments like a balcony Muppet."
Taxi
A sitcom about New York City cab drivers, which ran on ABC from 1978 to 1982, and on NBC from 1982 to 1983.
In the episode "The Great Race," Alex picks up two nuns who are fighting over what movie to see. One of them wants to see The Muppet Movie, and the other one wants to see The Sound of Music. One of the nuns says, "I can't stand that little frog!" After Alex tells them to pick one, they finally decide to see The Muppet Movie.
Connections
Teachers
In the episode "Face Your Peers," Chelsea sees Deb dressed as Mary Bop and thinks she's Larry. Unaware it's Deb, she calls her a furry little Muppet and asks "Can you tell me how to get to Sex-With-Me Street?"
Connections
Teen Angel
An American fantasy sitcom that aired as part of ABC's TGIF Friday night lineup about Marty DePolo, who dies from eating a six-month-old hamburger from under Steve Beauchamp's bed on a dare and is then sent back to Earth as Steve's guardian angel.
In the episode "Living Doll," Marty brings Katie's doll, Cindy, to life to babysit her when Steve has a date, but there's trouble when Cindy is over-affectionate with Steve in front of his girl. When Marty is about to turn Cindy back, Cindy pleads to not changed her back into a doll and says that Elmo always wants to tickle her.
Connections
That 80's Show
In the episode "Punk Club," Katie mentions the ''Sesame Street'' song "One of These Things" to explain why Corey doesn't belong in a club.
Connections
The Thundermans
After Max is turned blue in the episode "Blue Detective," he blames his family. Phoebe asks, "Do you have to be so dramatic?" Max answers, "I'm the one who looks like a teenage Cookie Monster, so yeah!" He then eats a waffle similarly to Cookie.
Connections
Today's Special
In the episode "Phil's Visit", plush toys of Big Bird, Cookie Monster, and Oscar the Grouch can be seen in the store.
Connections
Toonsylvania
An animated variety series similar to Animaniacs and produced by Steven Spielberg featuring Dr. Vic Frankenstein with his assistant Igor and their dim-witted Frankenstein monster known as Phil. The show featured rotating segments with other characters like a family of zombies called the Deadmans and a bratty girl named Melissa Screetch.
In the Night of the Living Fred episode "Bang," the Deadmans are about to have dinner when the house starts to shake and Fred shouts, "Snuffleupagus is that?"
Connections
Transparent
In the third season episode "To Sardines and Back," during a Pfefferman family dinner:
Maura: One of the things I wished for was that you people don't call me Moppa anymore. ... I just want to move away from Flopsy, Mopsy, huggable--
Shea: Like a Muppet.
Sarah's child: What do you want us to call you?
Sarah: How about Guh-guh?
Ali: Ugh. That's even more Muppety than Moppa.
Connections
Two's Company
British sitcom (1975-1979) centering on American novelist Dorothy McNab and her snooty English butler Robert.
In the third series episode "The Critic," Dorothy reads a caustic review of her books (secretly written by Robert): "Dorothy McNab's thrillers are about as spine-tingling as Julie Andrews on The Muppet Show."
Connections
Ugly Betty
In the first season episode "Fey's Sleigh Ride," Marc says of Betty, "The poor cow has no idea we only invited her so people could see she really exists. She's like a real-life Snuffleupagus, only hairier."
Connections
Undeclared
In the episode "Jobs, Jobs, Jobs" Jimmy impersonates Kermit the Frog introducing Sesame Street's "Letter of the Day" is S for shallow.
Connections
Undergrads
In the episode "Drunks" Gimpy tells Mum to set up a discussion as to "whether Yoda sounds like Grover or Miss Piggy."
Unfabulous
A 2004 Nickelodeon sitcom, following the lives of young guitarist Addie Singer and her friends, Geena Fabianno and Zack Carter-Schwartz. Throughout every episode, Addie would sing and play her guitar to help her cope with whatever issue she's currently dealing with.
In the season two finale "The Perfect Moment," Addie's older brother, Ben Singer gets arrested in Chinatown after attempting to get a tattoo while being underage. When his parents call him in the back of the car, he pretends he is still with his sister at home (who is also currently in Chinatown), by pretending he's watching the movie Back to the Future Part II; however, he conflates it with Back to the Future Part III. The officer corrects him once he's off the phone. At the station, a confused Ben asks "Then when did Doc and Marty take Manhattan?" To which the officer replies "That was The Muppets." Later back at the house, he tells Addie and her friends the cover story that they were watching Back to the Future Part III, and that it doesn't have Muppets in it.
Connections
The Unicorn
In the episode "It's Complicated", Forrest wants to send a meme to his group text, and asks if Kermit sipping tea is still a thing.
Connections
Rob Corddry plays Forrest
Chris Kelly wrote "Three Men Out", "Everyone's a Winner", and "Overnight Sensation"
Matt Sohn directed "The Unicorn and the Catfish", "Everyone's a Winner", and "Work It"
The Vicar of Dibley
In the 1996 Easter special (sometimes entitled "Easter Bunny"), Geraldine is explaining the truth behind the Easter Bunny to Alice. The vicar (while trying to break it gently to her) says: "Now at 10 your mother sat you down, and she told you that Kermit was really just an old windsock..."
In a sketch entitled "Celebrity Party," aired as part of a Comic Relief (UK) special in 1999, Geraldine and Alice prepare for their party with Johnny Depp.
Geraldine: Johnny's spent his whole life being surrounded by exotic birds.
Alice: Yeah, like Paris and Britney and Big Bird from Sesame Street.
Connections
The Wayans Bros.
In episode 17 of Season 3, "Pop's Secret" Shawn and Marlon accuse their father (Pops) of cheating on their mother, when they confront him Shawn says "Alright Kermit, we know what you've been hopping around town to do."
In episode 17 of season 5, "Crazy 4 You," Shawn and Marlon both fall in love with the same girl. Shawn tells Marlon that he doesn't stand a chance to date her since she is a psychiatrist. Marlon thought Shawn said ventriloquist, but when he heard the word again, it reminded Marlon of a psychiatrist name Sigmund Freud. Shawn is impressed and said to Marlon that eight years of Sesame Street paid off.
Connections
Welcome to Sweden
In episode 5 of season 1 ("Fitting In"), Bruce (Greg Poehler) overhears his Swedish girlfriend Emma (Josephine Bornebusch) talking with a friend about their mutual, terminally ill friend. Not understanding a word, he joins the conversation in mock-Swedish:
Greg: Ooo-dee-boo-dee-boo-dee! (laughs) That's like... that's all I hear when you guys are talking back and forth... it's just like... remember the, uh, Swedish Chef from The Muppet Show? It's like I can't understand a word when you guys are... talking... what um... were you guys... talking about?
Emma: A dying friend.
Greg: (chuckles)
Emma: (silence)
Greg: Seriously?
Emma: Yeah.
Connections
Whiskey Cavalier
Connections
Wings
Connections
Wonderfalls
In the episode "Muffin Buffalo," lead character Jaye is playing Pictionary with her family and her friend Pat. While Jaye's sister draws frantically, Pat shouts out guesses as to what she's drawing: "It's a frog! He's singing! 'Rainbow Connection!' "
Work It
Sitcom centered around two unemployed men, Lee and Angel, who have to pose as women in order to secure a job at a pharmaceutical company.
In the episode "Masquerade Balls," Lee wants to figure out which famous woman he looks like. Angel asks, "Is Big Bird a woman?"
Working Class
Sitcom centered around Carli Mitchell, a single mom from a rough and tumble background, trying to give her three kids a better life by moving them to an upscale suburb.
In the episode "Short, Then Sweet," Carli tries to find a date on the internet to go to her boss' house warming party. When she finds out her date, Derek, is shorter than her, she feels a bit funny about going out with him. They soon open up at the party and made a few funny jokes about each other's height. In one of the jokes, Derek calls Carli "Big Bird."
Connections
Yes Minister
British sitcom (1980-1984) focusing on government minister Jim Hacker and his scheming permanent secretary Sir Humphrey Appleby. Later became Yes, Prime Minister (1986-1988) with Hacker promoted to Prime Minister.
In the first series episode "Big Brother," when Jim Hacker asks if his wife Annie thinks he's become a Civil Service puppet, she says "Maybe you should get Miss Piggy to do your job. At least she's prettier."
Connections
Frank Middlemass played the Master of Ballie College in "Doing the Honours" (1981) and the Yes, Prime Minister episode "The Bishops Gambit" (1986)
Richard Vernon played Sir Desmond Glazebrook in two episodes (1980-1981) and one episode of Yes, Prime Minister (1987)
John Wells played a TV producer in the Yes, Prime Minister episode "The Ministerial Broadcast" (1986)
Young & Hungry
In the episode "Young & Back to Normal," Josh Kaminski thinks Gabi Diamonds is talking about a drummer guy and Gabi lies by saying she is talking about Animal from the Muppets.
Connections
Young Dylan
In the episode "Street Smart," after Charlie tries to rap, Dylan says to him "I said street smart, not Sesame Street!"
Connections
Tyler Perry is creator, executive producer, writer, and director
You're the Worst
In the season 4 episode "Like People," Lindsay hides in Boone's garbage container, so that she can warn him that he needs to break up with Gretchen. After seriously frightening Boone by her prescence, she calmly notes "Shhh... I'm a grouch."
In the season 4 episode "It's Always Been This Way," Lindsay discusses her conversation with Gretchen. "I made this happen! I grouched Boone." "You hid in a trash can? What did you say to him?"
Zach Stone is Gonna Be Famous
In the episode "Zach Stone is Gonna Be a Famous Chef," Zach mentions that all great celebrity chefs are famous only because of their personalities, not their cooking skill. His list includes "the Swedish one from The Muppets."
Zoey 101
In the episode "Quinn Misses the Mark," Michael Barrett claims that a horse ate the cookies meant for Logan and James. James, annoyed, calls Michael "Cookie Monster."
Zoey's Extraordinary Playlist
In the episode "Zoey's Extraordinary Reckoning," a SPRQ Point employee calls a co-worker "Big Bird".
The episode "Zoey's Extraordinary Goodbye" starts with most of the cast singing the song "Sing".
Connections