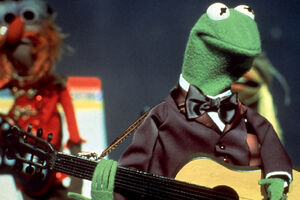 Minor songs proposed, without much context, to be performed in Muppet productions, or songs written for unfinished projects with little information on them.
"All I Do Is Dream of You": To be performed by the Muppet monsters to an unspecific female guest star.
"Seasons in the Sun": A magical scarf act by Fozzie Bear and Gonzo goes awry when the scarves come alive and take over singing the song.
"Six Lessons from Madame La Zonga": To be sung by a female guest star to Kermit and Fozzie. The song would start small and build to a large conga line.
Two types of serenades, "Trumpet Serenade" and "Woodpecker Serenade," would be performed by the Snerfs and some woodpeckers, respectively.
"Until It's Time for You to Go": Phyllis Diller would sing the song to Kermit, as he tries to leave to introduce her.
"Up, Up and Away": A proposed version featured Muppets singing from chroma-key hot air balloons.
"Without My Walking Stick": To performed by Fozzie Bear, accompanied by Rowlf the Dog on piano.
Songs proposed to be performed by the Country Trio include "Johnny Be Good" [sic], "Another Saturday Night," "Good Old Mountain Dew," "Tiger By the Tail," "In the Summertime," and "You'll Never Get Away."
Musical numbers proposed to be performed alongside a guest star include "It's Never Too Late to Fall in Love," "Eleanor Rigby," "If I Only Had a Brain" (duet with Fozzie Bear), "Something" (duet with Sweetums), and "How to Handle a Woman" (duet with Thog).
Other proposed songs for the first season, which went unperformed in any episode, include "Tennessee Bird Walk," "When I See An Elephant Fly," "Lovely," "I Am a Fine Musician," "Lucy in the Sky with Diamonds," "Take Off the Mask," "Cry Me a River," "If Every I Would Leave You," "On Top of Old Smokey," "Sippin' Cider Through a Straw," and "It's a Musical World."
"Unforgettable": Singer Natalie Cole was scheduled to perform her hit song "Unforgettable" on the show with Forgetful Jones. Last-minute scheduling conflicts and the passing of Richard Hunt prevented the taping.[3]
Sources
↑ Archival document displayed in The Jim Henson Exhibition at the Museum of the Moving Image
↑

Script documents provided by trusted source

↑ Clash, Kevin. The MuppetCast episode #41
↑

BMI Work #722391

↑

BMI Work #20061