Music by
Ludwig van Beethoven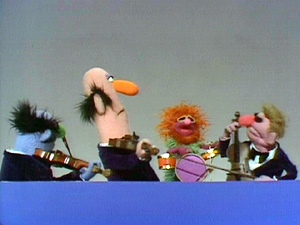 The work most commonly known as the Minuet in G (also, Minuet in G flat Major) by Ludwig van Beethoven comes from a series of six minuets for orchestra, of which it is the second. Although it was written for orchestra, only an arrangement for piano survived, hence its popularity as a solo piano piece. Later arranged for several ensemble players, this set of minuets is designated as the tenth of a large number of works by Beethoven that were not assigned an opus number (WoO 10).
The Minuet in G was first performed by the Muppets on The Ed Sullivan Show on January 17, 1971. Here, it was played by a string quartet formed by a lead violinist named Twill[1] (performed by Jerry Nelson), a blue violinist, Harrison[1] (Richard Hunt), Mahna Mahna on the drums and Grump on the cello.
Rowlf also performed the piece in episode 121 of The Muppet Show. It was later heard again in the teaser for episode 405, when Victor Borge played it to the protest of the Bust of Beethoven. On Sesame Street, Telly Monster and Itzhak Perlman performed it in episode 1446.
Releases
Video
Sources
Community content is available under
CC-BY-SA
unless otherwise noted.