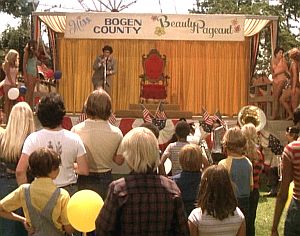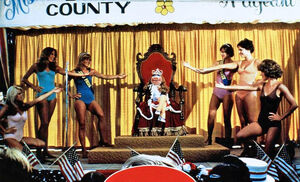 The Miss Bogen County Beauty Pageant is an annual fixture of the Bogen County Fair in The Muppet Movie. The event, in a midwestern region where according to the host "we sure grow 'em purty," celebrates the zenith of feminine beauty and charm. At the contest viewed by Kermit the Frog and friends, the first runner-up is Debbie Sue Anderson and the celebrity judges are Edgar Bergen and Charlie McCarthy. The winner, naturally, is Miss Piggy. Charlie feigns astonishment at the winner, despite his own involvement in the selection, and presumably a puckish wooden figure is not the best assessor of porcine magnetism to begin with.
While events of The Muppet Movie, comprising as they do a movie within a movie, are not necessarily canon regarding the character's backgrounds, Miss Piggy's status as Miss Bogen County has cropped up on multiple occasions. In It's a Very Merry Muppet Christmas Movie, a framed photograph of Piggy as Bogen County beauty queen adorns her apartment. The press bios for The Muppets' Wizard of Oz authoritatively claimed that Miss Bogen County was Piggy's first big break into show business.
Community content is available under
CC-BY-SA
unless otherwise noted.