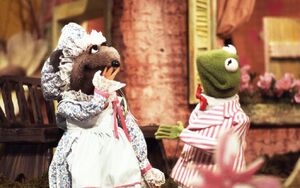 Miss Mousey made her debut in the 1974 special The Muppets Valentine Show, in which Kermit and Big Mouse vied for her affections during the song "Froggy Went A Courtin'." She broke both of their hearts when she instead rode off with Droop at the end of the scene.
Miss Mousey was featured as Miss Piggy's rival for Kermit's affections in episode 212 of The Muppet Show, in the number "How Could You Believe Me When I Said I Loved You When You Know I've Been a Liar All My Life". Although that was Miss Mousey's last major appearance, and the only one in which she was portrayed as a romantic interest of Kermit's, Miss Piggy claims in Jim Frawley's Camera Tests for The Muppet Movie that she broke Miss Mousey in half.
Although the name already appears in the lyrics of "A Frog He Would A-Wooing Go", she's referenced in the song when Rowlf the Dog performs it with Sam the Eagle in The Muppet Show episode 301.
According to The Muppets Character Encyclopedia, Miss Mousey left the Muppets quite some time ago and is now teaching theater classes at a small college in Wisconsin.
The Miss Mousey puppet, sans clothes and detailed eyes, appeared in the cast of Woodland Animals singing "For What It's Worth".
Filmography
Book appearances
See also