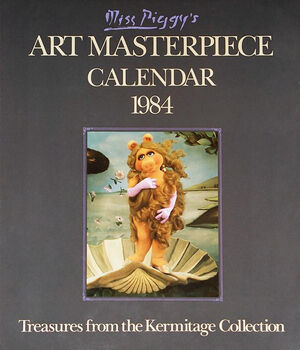 Miss Piggy's Art Masterpiece Calendar 1984: Treasures from the Kermitage Collection was published in 1983 by Alfred A. Knopf. The project was directed by Michael K. Frith.
The parody photos taken for this calendar were also published in book form as Miss Piggy's Treasury of Art Masterpieces from the Kermitage Collection.
The photos have been reused in many forms, including postcards, trading cards and puzzles.
They were reprinted as a calendar in 2000, Jim Henson's Muppet Masterpieces Calendar.
A 1985 Muppet Babies episode, "The Muppet Museum of Art", showed several pictures from the Kermitage calendar, including "Green Boy" and "American Gothique".
Contents
Community content is available under
CC-BY-SA
unless otherwise noted.