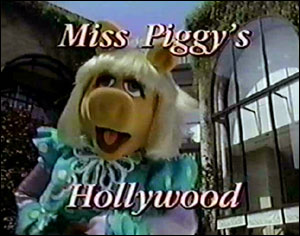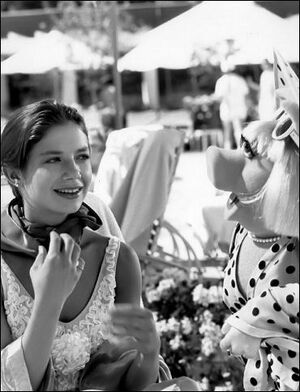 Miss Piggy's Hollywood originally aired as the second half of episode 105 of The Jim Henson Hour, which first aired on May 14, 1989.
In this special, Miss Piggy and her associate producer Gonzo attempt to take viewers on a star-studded trip around Hollywood and fail miserably. The concept is built around how Hollywood is home of the "family of the stars," but Piggy's encounters with actual stars are either near-misses (Bob Hope arrives after she's left) or rather one-sided (cornering George Wendt at his tailor's, while Justine Bateman shoves Piggy into a swimming pool).
Meanwhile, Fozzie Bear tries to find his way to the famous nightclub, the Comedy Store, for a perpetually delayed special report. The show closes with a Miss Piggy-obsessed Dudley Moore finally meeting his idol and singing a duet with her, "(Our) Love Is Here to Stay."
Featured Hollywood and Los Angeles locations include Grauman's Chinese Theater, Universal Studios, Rodeo Drive, the Tail o' the Pup hot dog stand, and even a brief glimpse of the Bullwinkle statue on sunset strip.
Cast
Muppet Performers
Special guest stars:
with Charles Dougherty, Don Draper, Karl Rumberg, Kathleen Wirt
Crew
Notes
Jim Henson and Richard Hunt are uncredited as performers in this production.
Jerry Nelson is heard as the main title announcer and in other small voice roles (including a security guard through a house speaker and King Kong).
Dave Goelz makes an onscreen cameo as a comedian auditioning at the Comedy Store.
Video releases