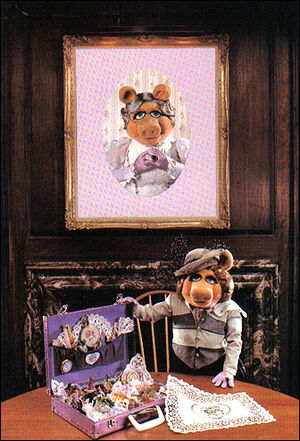 Miss Piggy's Mother gave birth to Miss Piggy, but is seldom seen or mentioned. The earliest known reference occurred in a 1979 People magazine article, which quoted Frank Oz's version of Piggy's back story. According to Oz, Piggy's relationship with both parents was strained, since her mother "never found time to develop her mind," and Piggy vowed she'd rather die than become a domestic drudge.
By the 1980s, however, the presentation of Piggy's mother is considerably softened. In a photo illustration in Miss Piggy's Guide to Life demonstrating a fashionable business career, Piggy's office is adorned with a large, hanging portrait of her mother.
Her portrait is seen again in the storybook The Case of the Missing Mother, resembling the previous photo version. Piggy recalls that when she was piglet her mother would tell her "Piggy, someday you'll be a star." Piggy talked about her mother stating "Ah she was so wise, so dear. So very much like moi, in fact."
Later, in the Muppet Kids books, an alternate version of Piggy occasionally mentions her mommy.
In a December 23, 1993 interview on Larry King Live, Piggy stated that she no longer talks to her mother.
Although never directly stated, applying genealogical relationships would establish her as the grandmother of Andy and Randy Pig as well.
Community content is available under
CC-BY-SA
unless otherwise noted.