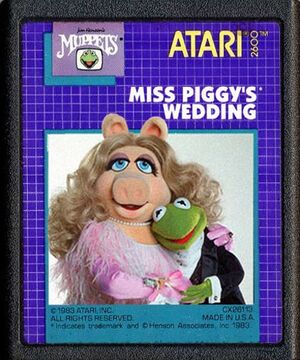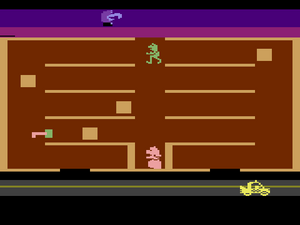 Miss Piggy's Wedding was a two-player game created in 1983 for the Atari 2600 console. The game was advertised in Atari catalogs, but never made it to final release, due to Atari's cancellation of their Children's series. A prototype of the game was discovered in the late '90s by a private collector.
The object of the game was for one player to maneuver Kermit through the church and outside to a waiting taxi, without getting caught by Miss Piggy (controlled by the second player), who insisted that they be married.
The obstacles to Kermit were the wedding guests (represented by blocks in the picture), who try to impede his progress through the maze. He also must touch a key in order to open the doors and escape, although if Miss Piggy touches the key, the doors close again.
The most complete version currently known for this game was never finished, so the consequences of Kermit escaping or being caught by Miss Piggy are unknown. Additionally, Gonzo appears at the top of the screen as the minister, yet he has no purpose in the game prototype.
External links
Community content is available under
CC-BY-SA
unless otherwise noted.