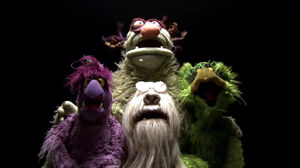 Mo Frackle appeared with the Muppet team on Family Feud in 2001. This Frackle was originally named Skankin Frackle[1] by builder James Wojtal. His appearance is similar to (and possibly based on) the "Blue" and "Green" Frackles originating in The Great Santa Claus Switch. In one of the Family Feud episodes, he claims to be from the tropics.
Among his most recent screen appearances include being regurgitated from Big Mean Carl in a Haunted Holidays sketch, and the online music video for "Bohemian Rhapsody" where he was seen in the same shot with Angel Marie, Old Tom, and a Purple Frackle. He made his feature film debut in The Muppets, and in 2017, he appeared with Luncheon Counter Monster and Pokey as Beaker's internet friends in the Muppet Labs sketch from The Muppets Take the Bowl.
Appearances
Sources
Community content is available under
CC-BY-SA
unless otherwise noted.