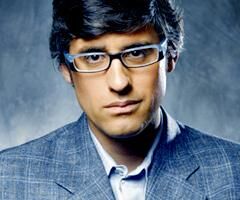 Mo Rocca (b. 1969) is a writer, journalist, and political satirist. Best known for his stint as a regular correspondent on The Daily Show, Rocca has also served as a panelist on Wait Wait... Don't Tell Me!
Prior to this, Rocca spent several years as a writer for various children's television series, including The Wubbulous World of Dr. Seuss. Joining the writing staff for the second season, Rocca served as story editor and penned various episodes, such as "The Cat in the Hat's Art House", and wrote lyrics for songs like "Brahms Lubbaby". His other kids' TV writing includes the PBS series Wishbone and Disney's Pepper Ann.
As a correspondent for CBS Sunday Morning, Rocca went to the set of Sesame Street in 2014, to study puppetry with Martin P. Robinson and puppet captain Matt Vogel. Rocca performed the right hand of Horatio the Elephant for a Season 45 segment using green screen, for "Super Grover 2.0".