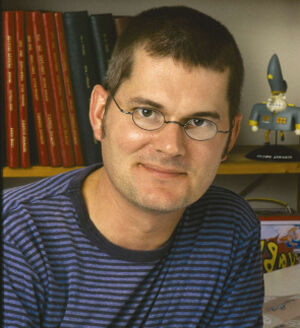 Mo Willems (b. 1968) is an animator and writer who has worked in both capacities on Sesame Street, and directed the opening for "Elmo's World". As a writer, Willems contributed scripts from seasons 24 through 33. He created many animated segments starring Suzie Kabloozie, as well as other inserts, and wrote and directed the home video release The Alphabet Jungle Game.
In a 2010 interview, Willems remembered getting hired at Sesame Street:
"When I got there I was making films for grown-ups. I was really happy to get the job because it paid the rent and I was getting to write sketch comedy. That's what Sesame Street is. It was at Sesame Street that I learned how to write for children. I wrote a lot of Elmo and a character called Baby Bear. By the time I was gone I realized this was where I wanted my career to be.[1]"
Outside of Sesame Street, Willems created the Cartoon Network series Sheep in the Big City (which at several times featured Sesame Street cast members Joey Mazzarino, Stephanie D'Abruzzo, Fran Brill, Ruth Buzzi and Jerry Nelson). He also wrote for Codename: Kids Next Door, and created "The Off-Beats" shorts for Nickelodeon.
Willems has since shifted to writing and illustrating children's books, including Don't Let the Pigeon Drive the Bus, Knuffle Bunny: A Cautionary Tale, and Leonardo the Terrible Monster.
Sesame Filmography
Sesame Street writing credits[2]
Sources
External links