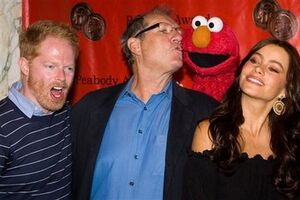 Modern Family was an ABC television series that aired from 2009 to 2019 about the life of three interconnected families told in mockumentary style.
References
Glimpsed on the CDE Wednesday night schedule in The Muppets is a show titled "Different Families," an allusion to Modern Family.
Mentions
In "Unplugged," while waiting for an interview at the pre-school, Cameron thinks that one of Lily's strong points could be the fact that "she always perks up whenever we watch Charlie Rose." Mitchell states it was a one-time occurrence, mainly because Elmo was a guest.
In "Hit and Run", Cameron and Mitchell mistakenly enter a showing of The Muppets. Believing they are going to watch a film with a lot of blood and gore, Cam tries to convince a father to leave the cinema before the movie starts. When he leaves, he explains to the other family that he was "always a fan the Muppets, especially of the two guys in the theater who wouldn't shut up." Once at home, they retell their story to their extended family. When their daughter Lily overhears that they were kicked out of The Muppets, she responds sorrowfully, asking, "you saw the Muppet movie without me?" Mitchell tries to convince her that they only watched "just the first two numbers".
In "Spring Break," Phil cites Kermit the Frog as one of his inspirations for taking up the banjo.
In "Good Grief," Phil reads off a list of ice cream places in West Hollywood. One mentioned is "Sherbet and Ernie."
In "A Year of Birthdays," Dylan admits he developed a fear of banjos after seeing The Muppet Movie.
Connections
Sources