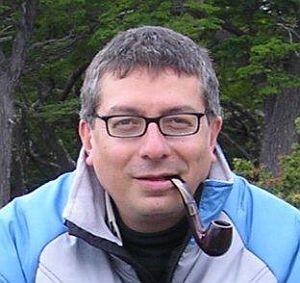 Moisés Palacios is a Mexican voice actor and singer who has voiced Fozzie Bear in the Spanish dubs of most of the recent Muppet movies and other projects, at least since Una Navidad con los Muppets (The Muppet Christmas Carol). He also dubbed the baker in The Adventures of Pinocchio, the narrator in George of the Jungle, and Elton John in The Country Bears.
Palacios has dubbed such actors as Woody Allen in multiple films, Paul Giamatti in Lady in the Water, Billy Crystal in When Harry Met Sally?, Roy Rogers in Melody Time, Christopher Lloyd in The Addams Family, Tim McGraw in Flicka, George Takei in Star Trek V: The Final Frontier, and Lee Arenberg in the Pirates of the Caribbean movies.
Animation credits include Cogsworth in Beauty and the Beast, Mr. Grasshopper in James and the Giant Peach, Randall in Monsters, Inc., Victor in The Hunchback of Notre Dame, Z in Antz, and the narrating peddler in Aladdin. He has also served as dubbing director on several projects, including the 2001 re-dub of Snow White and the Seven Dwarfs. Palacios performs as a rock musician in Mexico and has released several CDs.
External links