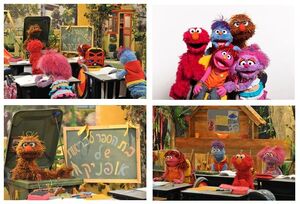 "Moishe Oofnik's School of Health" is a series of public service announcement shorts produced by Hop in cooperation with the Ministry of Health Israel for Children's Health Week on March 2012.
The shorts features the Muppet characters from Rechov Sumsum as they attend a school ledd by Moishe Oofnik. Moishe tells his students (Mahboub, Sivan, Abigail, and Elmo) how to improve their healthy lifestyle in a manner that is suitable for Oofniks. At the end of class, the students find their own solution to improve their health, in contrast to what Moishe had taught them.
The goal for these shorts was to show the important values of maintaining a healthy lifestyle.
External links