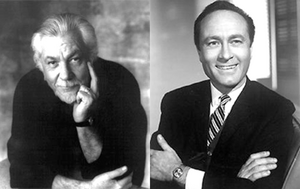 Moki is an unproduced concept for a TV film first pitched by Jim Henson in April 1967. The film is described as "a genderbending case of mistaken identity in which a long-haired, androgynous young man is mistaken for a female fashion model."[1]
Bernie Brillstein shopped the proposal around, however the unorthodox subject matter was seen as too controversial for networks. One potential director, Howard Morris, told Brillstein in May 1967: "This guy Henson's obviously got a nutty visual mind, [but] this story scares the bejesus out of me. It's not exactly dirty—it just ain't quite clean...the guy is very talented and it's a funny idea, but I guess I'm just old fashioned."[1]
See also
Sources
Community content is available under
CC-BY-SA
unless otherwise noted.