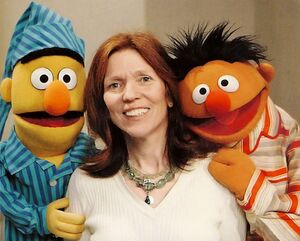 Molly Boylan has been a writer and lyricist on Sesame Street since 1989.
She was part of the team that developed "Elmo's World" and has written for several "Elmo's World" episodes. She also co-authored (with Judy Freudberg) the direct-to-video special Elmo's World: Wild Wild West which was nominated for a Daytime Emmy Award for Outstanding Writing in a Children's Special.
Her lyric writing credits have also earned Daytime Emmy nominations for "Outstanding Original Song," including "I Wonder" (2011), "Raise Your Hand Up High" (2015), "Try a Little Kindness" (2018), and "Song About Songs" which won the award in 2018.
She was mentored by long-time writer Jeff Moss, who married her sister Anne Boylan.[1]
Writing credits
Song Credits
Sources