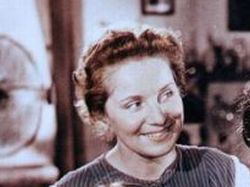 Monika Greving (b. 1914), sometimes spelled Monika Grewing, is a German actress who dubbed Wanda on Die Muppet Show (the localization of The Muppet Show) and in the German version of The Muppet Show album.
Greving was active in German film and television from the 1950s through the 1990s, often in motherly roles, and played guest roles on the popular crime dramas Tatort and Derrick.
Outside of Die Muppet Show, her rare dubbing roles include French actress Gilberte Geniat in A nous deux (1979) and the sultan's wife in an episode of the 1970s Sindbad anime series. In children's records, she was heard in the Impy's Island series (as Wutz, the pig) and others.
External links