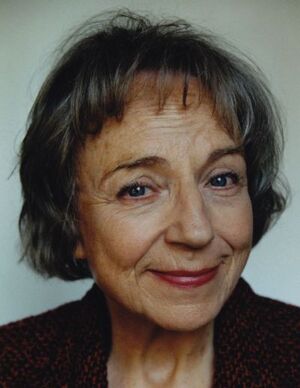 Monika John (b. 1932) is a German actress who has worked extensively in dubbing. For the Muppets, she dubbed Jill in Die Muppets erobern Manhattan (The Muppets Take Manhattan), Miss Finch in Bibos abenteuerliche Flucht (Follow That Bird), and Olly on Jim Hensons Animal Show mit Stinky und Jake (The Animal Show). She also dubbed the Vogon receptionist in The Hitchhiker's Guide to the Galaxy.
John has performed in German film and television since the 1950s, including the Oscar-nominated Nachts, wenn der Teufel kam (The Devil Strikes at Night). Active in dubbing since the 1970s, she voiced several characters in the Eberhard Storeck-produced dubs of Maya the Bee and Pinocchio. She voiced the cartoon kangaroo Adelheid who hosted Trickfilmzeit mit Adelheid (Animation Time with Adelheid), a package consisting of dubbed Jay Ward cartoons, Mr. Magoo, Klondike Kat, Krazy Kat, and others, with new wrap-around scenes. In animated features, she dubbed Dr. Flora in A Bug's Life, Mrs. Packard in Atlantis: The Lost Empire, the waitress in The Emperor's New Groove, and the Queen in Cars 2.
In live-action dubbing, John has dubbed an assortment of "old lady" roles and actresses, including Imogene Coca in National Lampoon's Vacation, Mae Questel in National Lampoon's Christmas Vacation, Alice Drummond in Doubt, Betty White in Hard Rain and on Community, Jean Stapleton on Caroline in the City, and Elizabeth Spriggs on Poirot. Exceptions to this typecasting include Juliet Mills on Columbo, male little person actor Michu Meszaros in Warlock: The Armageddon, and the dormouse in Tim Burton's Alice in Wonderland.
External links