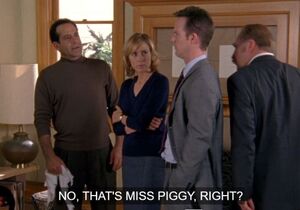 Monk is a detective series which ran from 2002 to 2009, focusing on phobia-riddled police consultant Adrian Monk. A series of tie-in mystery novels began in 2006 and continued to 2013.
Muppet Mentions
In the second season episode "Mr. Monk Goes to the Circus," a clown punctuates Monk's denouement by miming a pointed gun and shouting "Wocka Wocka!"
In the sixth season episode "Mr. Monk Paints His Masterpiece," Monk's artistic depiction of Natalie (never shown on-camera) is assumed by Lt. Disher to be Jimmy Buffett while Captain Stottlemeyer thinks it's Miss Piggy.
In the Monk novel Mr. Monk and the Dirty Cop, Disher refers to a trick he learned on the streets, only for Captain Stottlemeyer to add "The Sesame Streets."
Connections