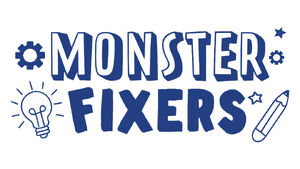 Monster Fixers is a Sesame Street video series sponsored by Farmers Insurance that premiered on YouTube in November 2019.
The videos feature Elmo as a Sesame Street News junior reporter (whose microphone flag bears the original News Flash logo), commentating on the current dilemma of a storybook character. They receive help from Cookie Monster, who appears as a jobholder tailored to the problem and identifies how to correctly solve it through trial and error.

Video
Description

Humpty Dumpty's Fall (November 4, 2019)
A rapping Humpty Dumpty falls off the wall and cracks his shell. Kingsman Cookie and his horsie promise to fix him up after they have a snack. Elmo suggests using the honey from their picnic basket to hold Humpty's pieces together, but it proves to be too runny. Cookie uncovers some rolls of tape from the basket, which they use to finally tie Humpty back together again.

Little Bo Peep's Fence (November 6, 2019)
Little Bo Peep keeps losing sight of her sheep as they keep escaping through a broken fence. Repair monster Cookie tries using hay to fill the gap, but the sheep eat their way through. Cookie then decides to use Bo Peep's strong and sturdy staff, and Elmo's microphone, to block the empty space.

3 Little Pigs' House (November 8, 2019)
Cookie Monster and Abby Cadabby play two of the Three Little Pigs, who comment on the aftermath of their straw house (due to Cookie-pig sneezing). Elmo notices the pile of cookie boxes and gives one little pig the idea to build a house with them. The house's sturdiness is tested when Cookie takes away one of the boxes, causing it to collapse. Elmo again clues the little pig to build a stronger house with rocks and stone.
External links