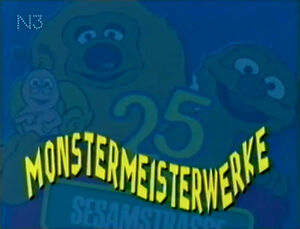 Monstermeisterwerke - Das beste aus 25 Jahren is a forty-five minute Sesamstrasse special that aired in 1998 to commemorate the show's 25th anniversary. In the special, the Muppets of Sesamstrasse (Samson, Tiffy, Rumpel, Finchen and Buh) introduce a series of favorite segments from the show (all American-dubbed material). Clips include:
The special was re-aired in 2013 as a part of Die lange Sesamstraßen-Nacht.
Community content is available under
CC-BY-SA
unless otherwise noted.