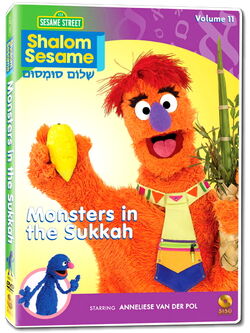 Picture
Segment
Description




SCENE 1
Avigail and Brosh have made their own sukkah for Sukkot tonight. They invite Anneliese to spend the holiday with them, when their sukkah tips over. She offers to help rebuild it, when Grover appears, aware of friends in need. He first shows up with a fireman's hat, then changes to a chef's. He finally dons his construction hat and begins to study his "Building Sukkah for Klutzes" guide.

Cartoon
The Construction Lady does the Construction Dance.
From "Elmo's World: Building Things"

Film
A variety of sukkahs are shown.

Animation
The Hebrew month of Tishre
(First: The Sticky Shofar)

Muppets
The Number of the Day: 6
Five sheep and a duck arrive to celebrate that the Number of the Day is 6.

Animation
Six bells appear over a gate.

Film
Six dancers break it down in a park.

SCENE 2
As Grover continues to figure out his pamphlet, the others have already finished rebuilding their sukkah. They invite Shoshana, who believes there may not be room. Anneliese tells her, "The more the merrier." The monsters rush off, inspired, as Anneliese helps Shoshana prepare a meal for tonight.

Animation
Kids name the pieces of clothing a construction worker needs.

Film
A boy narrates a film of his family's Sukkot celebration.

Film
Kids describe their Sukkot celebrations.

Film
Scenes of an Israeli marketplace, where items for Sukkot are sold.

Cartoon
Words that begin with alpeh

SCENE 3
Shoshana and Anneliese come outside with the food and are surprised to see the sukkah is filled with all their friends from Rechov Sumsum, even Fred, the elephant.

Cartoon
Shalom Sesame presents: "Abraham and the Three Visitors"
Abraham provides comfort to three weary travelers, who predict that he and his wife shall have a child in one year's time. Sure enough, their prediction comes true.

Muppets
Kingston Livingston III sings about his birthday party, but all of his friends are outside the house, while the party is inside.

Film
People celebrate outside the Kotel.

Cartoon
Words that begin with samech

Muppets / Film
Postcard from Grover
Grover reports on what a kibbutz is.

Closing
The sponsors are announced.
DVD Bonus
Grover's Video Player: "Kids on Kibbutz"