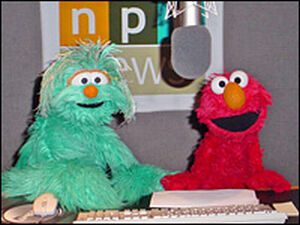 Morning Edition is a two hour, weekday morning radio news program heard on National Public Radio. The series combines newscasts, interviews, and features on a variety of topics, from politics to the arts. Several Morning Edition segments have involved the Muppets.
Appearances
November 14, 2002 — Bob Edwards provides a retrospective of The Muppet Show, prompted by Kermit the Frog's recent receipt of a star on the Hollywood Walk of Fame. Kermit himself was interviewed, and notes that Miss Piggy is unaware that she doesn't have a star yet, "but you know, I kinda doubt she listens to NPR somehow." Also interviewed, in pre-recorded segments, are Jerry Juhl, Jerry Nelson, Steve Whitmire, and Dave Goelz. [1]
September 21, 2011 — Susan Stamberg reports from the set of The Muppets. James Bobin, Pepe, and Bill Barretta talk in the segment. [6]
External Links