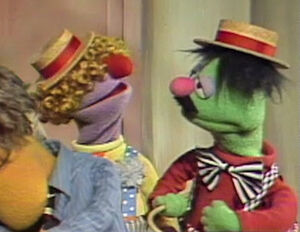 Mortimer J. O'Brien (June 28, 1909 - January 19, 1992[1][2]), nicknamed "Snooks," was the twin brother of Chet O'Brien. While his brother was listed as production stage manager on Sesame Street, Mortimer O'Brien was credited as simply stage manager from season 9 through season 23.
Mortimer O'Brien was born in Rochester, New York, and like his brother Chet (and often working with him), began as a dancer in vaudeville. He moved to Broadway as a chorus boy in twenties and thirties musicals and revues such as Fine and Dandy and As Thousands Cheer. By the 1940s, he'd transitioned to stage managing on shows including Helen Goes to Troy, A Connecticut Yankee, Sweethearts, and One Touch of Venus.
For television, O'Brien stage managed the New York Philharmonic Young People's Concerts, the Stephen Sondheim TV musical Evening Primrose (with Anthony Perkins), soap operas (including Search for Tomorrow), CBS news with Walter Cronkite, and specials like 1978's Happy Birthday, Bob.
References
Sources
↑ Theatre World 1992-1993. Obituaries. p. 225.
External links
Community content is available under
CC-BY-SA
unless otherwise noted.