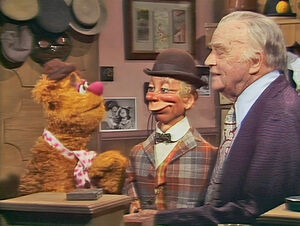 Mortimer Snerd was the secondary ventriloquist dummy of Edgar Bergen, and appeared with Bergen and Charlie McCarthy in episode 207 of The Muppet Show.
Created in 1938, Mortimer made his debut on Bergen's radio series, The Chase and Sanborne Hour. The character was an amiable hick, with a slow drawl reminiscent of the Disney character Goofy, and a streak of innocence and unique logic, in contrast to the sharp-witted Charlie McCarthy. The dummy reflected this, with buck-teeth, elongated nose, and more mundane "rube in the city" costuming in contrast to the top hat and tails worn by both Charlie and Edgar.
Snerd soon became popular in his own right, and appeared with Bergen and McCarthy in such films as Charlie McCarthy, Detective; Here We Go Again; Stage Door Canteen; and Fun and Fancy Free (also starring Mickey Mouse and the voice of Dinah Shore). He was also the inspiration for the Looney Tunes character Beaky Buzzard.