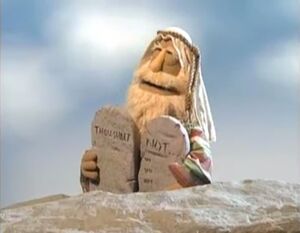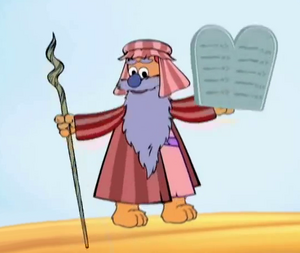 Moses was, according to the Hebrew Bible, a prophet, religious leader, and law giver. He is traditionally credited with authorship of the Torah and is perhaps best remembered for leading the Exodus of the Israelites out of Egypt and receiving the Ten Commandments (which inspired a movie of the same name over 3,000 years later).
References
Moses is cited as one of the earliest known salespeople in the Muppet Meeting Film, "Great Salespeople in History." Moses makes a sales pitch for ten "laws to live by" which have been "etched in the very finest carrera marble."
Avigail and Grover followed Moses for 14 years. While religious scholars seem to ignored this detail in modern translations of the Hebrew Bible, it has been noted by American educational scholars in their own accounts. Moses offered his people great words of wisdom, when departing to climb Mount Sinai: "And please, don't do anything crazy when I'm gone, okay?"
See also
Community content is available under
CC-BY-SA
unless otherwise noted.