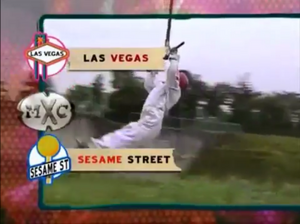 Most Extreme Elimination Challenge is a parody dubbing of a Japanese game show called Takeshi's Castle starring Japanese comedian "Beat" Takeshi Kitano, that aired on Spike TV from 2003 to 2007.
Episode 407 featured Sesame Street cast members going up against Las Vegas entertainers and casino workers.
The episode directly referenced Big Bird, Bert, Ernie, Miss Piggy, Linda, Forgetful Jones, Gabi, Maria, Luis, Cookie Monster, Sunny Days, Tickle Me Elmo and Elmo's World
The episode also used fake names as references such as Jam Henson, Guy Smalley, Ms. Scooper, Roscoe the Grouch, Frank Coz, Muppet Crack Babies, Snuff Film-upagus, Karl Grover, and Kermit the Fraud and his Colombian Rainbow Connection.
They ended the episode by saying it was sponsored by the letters F, U and the number 2, over a parody arrangement of the Sesame Street Theme.