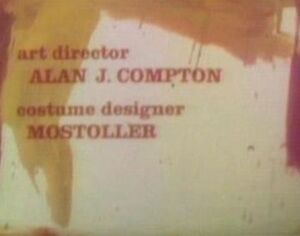 Ramse Mostoller (1920-2004), better known simply as Mostoller, was a costume designer who worked on stage productions and New York television shows. She was the costume designer for the human cast of Sesame Street from season 2 through season 5. For several seasons, she also designed costumes for The Electric Company, and did costumes for the joint Electric Company/Sesame Street special Out to Lunch (costuming guest stars Elliott Gould and Barbara Eden, among others).
Mostoller's best known work was for the long-running soap opera Dark Shadows. She worked on other soap operas, including Ryan's Hope and Another World. In film, in addition to both of Dan Curtis Dark Shadows features, Mostoller costumed Santa Claus and assorted Martians (including Bill McCutcheon) for the infamous Santa Claus Conquers the Martians (1964). On Broadway, she designed Thurber Carnival (billed as Ramse Stevens) and The Affair.
External links
Community content is available under
CC-BY-SA
unless otherwise noted.