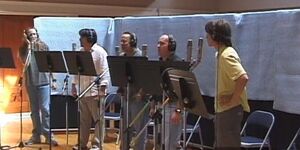 "Moulin Scrooge" is the Christmas show performed at The Muppet Theatre in It's a Very Merry Muppet Christmas Movie, as well as the registered title for the original music and songs used in the sequence. A parody of the musical film Moulin Rouge!, the show starts off with the song "There Was a Frog," sung by Gonzo (spoofing John Leguizamo's performance of David Bowie's "Nature Boy").
Kermit enters, spoofing the role of Christian, the young writer looking for "inspiration to write about love." He encounters the Green Fairy (Robin the Frog) floating in a glass of "funny green root beer," which presents a joke too good (or too bad) for Fozzie Bear to pass up. This leads right into a musical number composed of "Lady Marmalade" and "Smells Like Teen Spirit" performed by Chickens and Penguins.
As this wraps up, Fozzie introduces the star of the show, Saltine, who is portrayed by Miss Piggy as a spoof of Nicole Kidman's character Satine. She is lowered on a trapeze while singing "Santa Baby."
As usual, Piggy's song is interrupted, this time by a montage of songs performed by Gonzo, Fozzie, penguins, chickens, and Elvises. Infuriated, Piggy puts a stop to it, and after a brief reminder from Scooter, resumes her song.
In a scene cut from the final film, Sam the Eagle portrays the rich Baron Von Scrooge, a rival for Kermit who is also after Saltine's affection.
See also
Community content is available under
CC-BY-SA
unless otherwise noted.