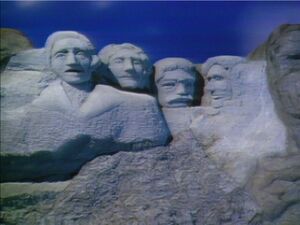 Mount Rushmore is a national monument located in Keystone, South Dakota. A Muppet caricature appears in 1975's Muppet Show pilot, Sex and Violence telling jokes. They are played here by Jim Henson (George Washington), Jerry Nelson (Thomas Jefferson), Frank Oz (Teddy Roosevelt), and John Lovelady (Abraham Lincoln). The oblivious Washington frequently said "I don't get it."
A subtitled version of this clip, along with its intro of Sam, Nigel and Floyd, plays in a montage video loop at the actual monument's Lincoln Borglum Museum, showcasing Mount Rushmore's appearances in popular culture over the decades.
They would appear twice more, rebuilt as different puppets. In the 1980s, they could be seen in a PSA for the National Wildlife Federation with Kermit the Frog (in his Sesame Street reporter's outfit). In 1996, they reappeared in Muppets Tonight episode 106. They laugh in a Beavis and Butt-Head style, after having seen Gonzo zoom past them on a rocket.
A draft of The Muppet Movie script featured a scene where the heads of Mount Rushmore agree to let Henry Kissinger join them. Although this scene wasn't filmed,[1] the real Mount Rushmore was seen in the movie, during a montage for Fozzie's rendition of "America."
In 2004, a computer animated version of Mount Rushmore co-starred with Miss Piggy in a Pizza Hut commercial. In The Muppets, Crazy Harry is seen at Mount Rushmore, using explosives to replace Lincoln's head with his own.
Verbal references
Sources
Community content is available under
CC-BY-SA
unless otherwise noted.