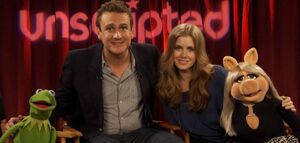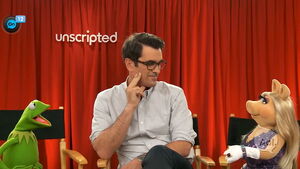 Moviefone Unscripted is a video segment in which celebrities answer questions submitted by fans to Moviefone. The segments are unscripted and without an interviewer or moderator.
The Muppets
Kermit the Frog, Miss Piggy, Amy Adams and Jason Segel appeared in late November 2011 to promote The Muppets.
Among the topics discussed are Piggy's flirtatious advances on Jack Black, Kermit and Segel's trip to Mexico, and Piggy doing impressions of Fozzie Bear, Animal, and Kermit.
Segel had previously appeared on Unscripted with Kristen Bell on April 11, 2008. She asked him if he could cast himself in any past series, what would it be. Segel answers The Muppet Show and shares an anecdote about the Peter Sellers episode.
Muppets Most Wanted
On March 18, 2014 Moviefone posted a long as well as three shorter videos promoting Muppets Most Wanted. Kermit and Miss Piggy appeared, with costars Tina Fey, Ty Burrell and Ricky Gervais.
External links
Community content is available under
CC-BY-SA
unless otherwise noted.