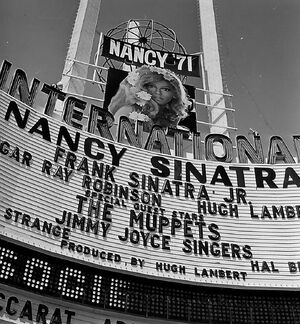 Movin' with Nancy Nice n' Easy is the 1973 unfinished filmed version of Nancy Sinatra's Las Vegas act which guest-starred the Muppets. Filmed at NBC Burbank Studios, this 50 minute special never completed filming, and never aired. In 2005, Sinatra expressed interest in releasing the existing footage on DVD.
"Movin' With Nancy, Nice 'n' Easy was taped at NBC Burbank studios. It's a shame we couldn't finish it (no money) because it would have been a good show. What we have of it is more a collection of what would now be called music videos. They are still entertaining and fun – especially the Muppets segments." - Nancy Sinatra
The following is a list of songs performed on the show.
Nice 'n' Easy
Ain't No Sunshine
I Feel the Earth Move
Hugga Wugga Buggy Mugger (The Muppets)
Watch Your Footwork (Hugh Lambert, Sugar Ray, Frank Sinatra Jr.)
You at Heart (Nancy & Frank Sinatra Jr.)
Who?
Mahna Mahna (Nancy & The Muppets)
Brotherhood of Frog (The Muppets)
Fortuosity (Nancy & The Muppets)
Well Did You Ever (Hugh Lambert, Frank Sinatra Jr.)
I'm Flying
Spice (Frank Sinatra Jr.)
Do I Hear a Waltz
I'm Not Afraid
Draw Me a Circle
External links