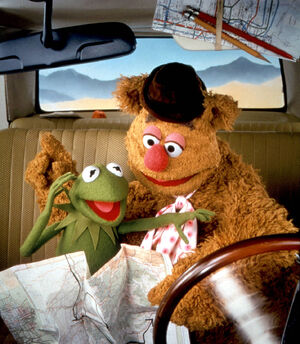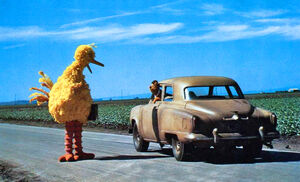 "Movin' Right Along" is sung in The Muppet Movie by Kermit the Frog and Fozzie Bear as they set out together in Fozzie's Studebaker for California.
The song is generally upbeat and has a number of comical lines reflecting the passing scenery, such as Fozzie singing "Hey, I've never seen the sun come up in the west?" It also notably features a cameo from Big Bird who's heading east to break into public television. Later on in the film, Dr. Teeth and the Electric Mayhem perform their own (mostly) instrumental version while taking the rest of the Muppets to Hollywood on their bus.
The following lyric, which precedes the final verse, is not included in the film version but has been heard in audio form:
Movin' right along,
Do I see signs of men?
Yeah, "welcome" on the same post
that says "come back again."

Kermit and Paul Williams sang the song together for The Muppet Show Live in 2001. Kermit and Fozzie sang the song during the Muppet Medley in Jim Henson's Musical World in 2012, and again as part of the "Moving Medley" in the concerts The Muppets Take the Bowl and The Muppets Take the O2.
The song was later used in the "Wildebeest & Turtle" episode of The Animal Show to a montage of animals who love to travel-migrating great distances each year. In the same episode, Stinky the Skunk briefly sings the song after the video montage ended.
Releases
Audio
Video
Publications
See also
Community content is available under
CC-BY-SA
unless otherwise noted.