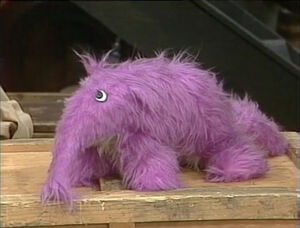 Mr. Anteloper is Snuffy's stuffed toy. He's a furry, pink representation of a creature called an anteloper, which resembles an anteater.
Snuffy introduced him to his friends on Sesame Street in Episode 2098, soon after he was revealed not to be Big Bird's imaginary friend. Mr. Anteloper frightens easily, so Snuffy requests that he's spoken to very quietly and that his nose not be handled as someone might shake a snuffle as a greeting.
Although he can't be heard, Mr. Anteloper refers to everyone using honorifics such as Mr. Bob and Ms. Maria. Big Bird notes that Snuffy's name is already Mr. Snuffleupagus, so Snuffy clarifies that he's called Mr. Mr. Snuffleupagus. He also acknowledges that the toy isn't alive, but asserts that he can imagine Mr. Anteloper's thoughts and feelings. According to Snuffy in Episode 2314, Mr. Anteloper is a lawyer, who once argued a case in front of the Supreme Court.
Mr. Anteloper was later seen in episodes 2153, 2190, 2309, 2314, 2321, 2472, and Big Bird's Story Time. In later appearances, tufts of gray fur and eyeglasses were added.
See also