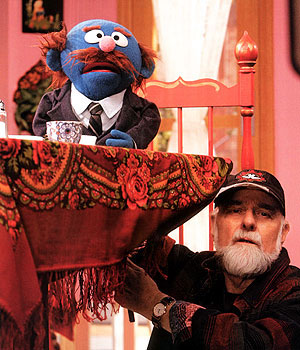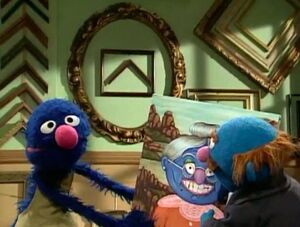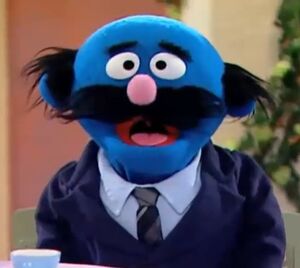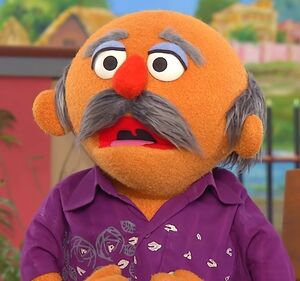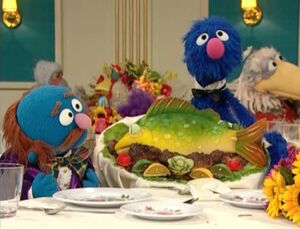 Mr. Johnson is Waiter Grover's recurring customer at Charlie's Restaurant and various other locations. He is sometimes referred to by his Anything Muppet designation "Fat Blue", such as in the book Sesame Street Unpaved and in many scripts for his sketches.[1]
Almost everywhere Mr. Johnson goes, Grover is sure to be the one providing his service. Grover has even come to his apartment at 14 Sesame Street from time to time as a door-to-door salesman. One 1983 sketch (see the attached video to the right) finally revealed that his name is Mr. Johnson. Later, in the song "Put a Lid On It," he is named "Fred" (both, in passing via lyrics, and continually in the script). In A Celebration of Me, Grover, he is referred to by Big Bird as Mr. Blue. By Season 48, characters refer to Mr. Johnson by name regularly.
Once the restaurant series was well established, as Grover returned to the kitchen to rectify an error in his order, Mr. Johnson would frequently turn to the camera and soliloquize, "Why do I keep coming back to this restaurant?" At one point, when it was later established that Grover would continually appear in other jobs, he said, "Everywhere I go I see that guy. I'm beginning to think I'm under some kind of spell." As the years went on, Mr. Johnson got more and more frustrated and irritable with Grover. After season 32, he disappeared until the release of A Celebration of Me, Grover. After that, Mr. Johnson came back in Episode 4102, while Grover was Gina's vet assistant. Since then, he would continue to make several more appearances.
While he often complains about Grover serving him everywhere, he has occasionally gone places where Grover had no employment or service to him, though he still gets bad service regardless. This included his visit to "Pizzeria Dos," (First: Episode 2842), where the waiters insist on him getting two of everything, even though he didn't have the appetite for two. In a sketch with Keegan-Michael Key working at the newsstand, he is the first of many customers who has to deal with Keegan being too pre-occupied with reading the newspaper to actually sell them. (First: Episode 4903) There have also been a number of occasions where he has gone to Hooper's Store, where Grover has rarely been employed. In Episode 2696, he went there to avoid Grover's service, though Grover called up the place and begged him to go to Charlie's. In Episode 3825, he came asking Alan if he had any toast, at a time when Alan's toaster had broken. He later ate outdoors at Hooper's Store in Episode 4191, being served by Chris, but in this case his service was affected by the weather as Abby Cadabby kept magically changing the current season.
Little is known of Mr. Johnson's private life other than that he's been married, that his mother still lives in Chicago (or Cincinnati at another time), that he himself used to live in Buffalo, New York, and he has a cat named Fluffy. He was interviewed in the notes of the Old School: Volume 2 booklet in a piece that was written as a fourth-wall breaker; in that Mr. Johnson seems to have knowledge of his Fat Blue Anything Muppet pattern having been used for other characters on the show. This would be the equivalent of Count von Count acknowledging that he also "plays" Biff or The Amazing Mumford.
Mr. Johnson appeared in "Counting Café," a video game for the Sega Genesis console released in 1994, based on the premise that Grover must serve orders at a café properly in order to advance through the levels. He also makes a minor appearance in the CD-ROM game Search and Learn Adventures, and a vocal cameo during the credits of Ernie's Adventures in Space. He also appeared in the iPhone app "Grover's Number Special", released in 2009.
Other appearances by Mr. Johnson include cameos in the song "Another Good Morning Here on Sesame Street", Episode 4525, and a featured role in Episode 4603 (performed by Matt Vogel). An ancestor of Mr. Johnson (also performed by Vogel) appears as the constable in the 2016 special Once Upon a Sesame Street Christmas.
Mr. Johnson has also been included in some of the show's international co-productions. A varient of the character (with black hair and a different performer) made a few appearances in the 2010 revival of Shalom Sesame. Since 2017, Mr. Johnson has appeared in original material for Germany's Sesamstrasse, including all three pilot episodes for the show's spin-off Pizza mit Biss. Sisimpur in Bangladesh features a similar-looking character (albiet orange) named Kohoka Miah, who shares similar, unfortunate experiences to his American counterpart with Halum (as well as the local version of Grover).[2]
Appearances
Episodic appearances
Notes
Mr. Johnson has been credited in some media as "The Customer" (Let's Eat!: Funny Food Songs and Ernie's Adventures in Space) and "The Food Lover" (Search and Learn Adventures).
Book appearances
See also
Sources