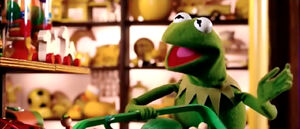 Mr. Magorium's Wonder Emporium is a 2007 film written and directed by Zach Helm. The film stars Natalie Portman, Dustin Hoffman, Jason Bateman and Zach Mills.
When a young pianist named Molly Mahoney (Natalie Portman) inherits a magical toyshop from her eccentric 243-year-old boss, Mr. Magorium (Dustin Hoffman), she struggles with self-doubt, as well as the living store's tantrums. But with the help of a charismatic little boy (Zach Mills) and a buttoned-up accountant (Jason Bateman), she learns to believe in herself, and finds that she does possess enough magic to run Mr. Magorium's shop.
Kermit the Frog (performed by Steve Whitmire) makes a celebrity cameo in the film. Towards the opening of the film, Kermit appears as a customer at the Wonder Emporium toy store. He reacts to fellow shoppers who are somewhat shocked and excited to see the famous frog browsing in the toy store.
Writer/director Zach Helm commented on Kermit's time on the set: "The man who manipulates him is 6 feet tall, beard, long hair. He's standing right there, he's got all this equipment on, but you can't help but talk to Kermit. It's as if the man is invisible."[1]
Among the puppeteers who helped out with moving around characters such as stuffed animals were Trish Leeper, Gord Robertson, Bob Stutt, Karen Valleau, Mike Petersen, Frank Meschkuleit, Patricia Lewis, and Matt Ficner. The soundtrack for the film, with music composed by Alexandre Desplat and Aaron Zigman, contains a track called "Kermit" at just over a minute and a half.
Sources
External links
Community content is available under
CC-BY-SA
unless otherwise noted.