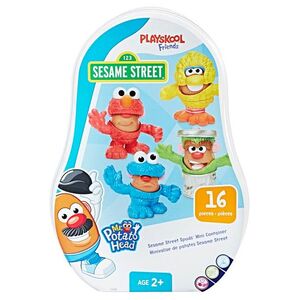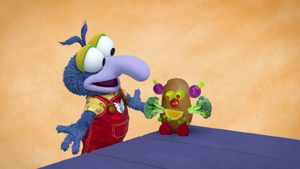 Mr. Potato Head is a toy involving adding plastic features or limbs to a potato body. The earliest commercial version by Hasbro in 1952 was actually a kit, with accessories to be added to an actual potato (or other vegetable), with the plastic potato added later. Mrs. Potato Head was introduced while still in the kit phrase, in 1953, with other family and friends who mostly faded.
1985 added a Mr. Potato Head Family set (Mr., Mrs. and Baby Potato Head) and the Playskool line of Potato Head Kids (leading to an animated segment on My Little Pony and Friends from Marvel Productions). While periodic records or talking games and toys surfaced, Mr. Potato Head's most substantial media showcase was as a cantankerous supporting character in the Toy Story franchise, voiced by Don Rickles. A one season Fox Kids TV series The Mr. Potato Head Show aired from 1998 to 1999.
Later versions of the toys often tied into and parodied pop culture figures (such as the Star Wars "Darth Tater"). While a new Potato Head Family set was released in 2021 (without limitations to gender roles or family composition), the established Mr. and Mrs. Potato Head toys continue to be sold.
Merchandise
References
Connections