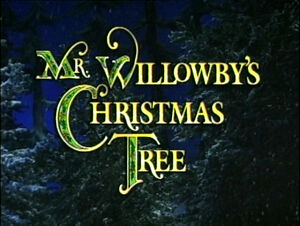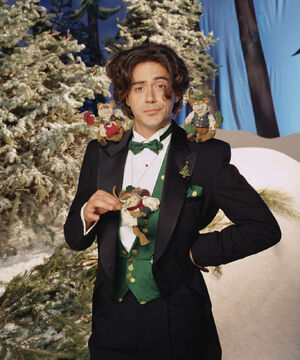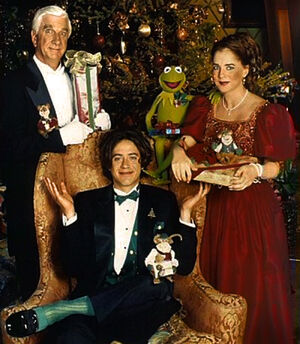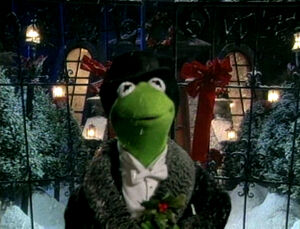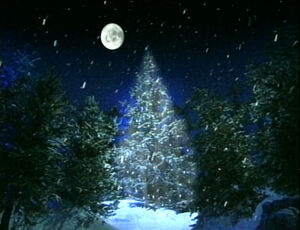 Mr. Willowby's Christmas Tree is a 1995 half-hour TV special starring Robert Downey Jr., Leslie Nielsen, Stockard Channing and a family of Muppet Mice. The special first aired on CBS on December 6, 1995.[1]
Based on Robert Barry's 1963 book, the story follows a family of mice living in the wealthy and eccentric Mr. Willowby's house. They decide to start the hunt for the perfect Christmas tree (namely, chopping off the top of the perfect tree Mr. Willowby has brought home). However, while they continually attempt to take their piece of tree, the top of the tree is passed around from humans to animals, each one taking just enough of the tree to make it the perfect size for them. Through this adventure, the mice see how others celebrate Christmas, and Mr. Willowby's friends and employees learn a little about Christmas magic too.
Cast
Credits
Music and Lyrics by Michael and Patricia Silversher
Executive Producer: Michael K. Frith
Produced by Ritamarie Peruggi
Teleplay by Mitchell Kriegman
Based on the book by Robert Barry
Directed by Jon Stone
Director of Photography: Tony Cutrono
Production Designer: Val Strazovec
The Muppet Workshop: Marian Keating, Ron Binoin, Susan Doyle, Isabel Dufour, Jane Howell, Rollie Krewson, Larry Jameson, Tom Newby, Stephen Rotondaro, Julie Zobel
Music Produced by Michael and Patricia Silversher
Music Supervisor / Arranger: David Lawrence
Edited by David Gumpel, Jason Bielski, Mark Oberthaler
Puppet Captain: Kevin Clash
Creative Consultant: Jim Lewis
Distribution
A dubbed NTSC DVD was released in Mexico.
Sources
↑ The Paris News, December 3, 1995.
External links