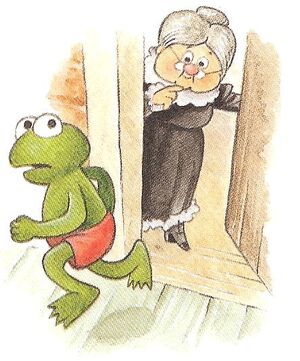 Mrs. Bigelow is a little old lady who is featured in the short story "Robin and the Haunted House" in the Jim Henson's Bedtime Stories.
Mrs. Bigelow owns a run-down house that Robin and his friends pass every day after work. Convinced it is haunted and owned by a witch, Robin's friends dare him to go up and knock on the door. When the front door swings open, Robin begins to run away, but is surprised to see that a witch doesn't answer the door, but rather a little old lady.
Because Mrs. Bigelow is unable to care for her house on her own anymore, the frogs help out around the house, pulling weeds and mending the porch, until the house is no longer the spooky site it once was.