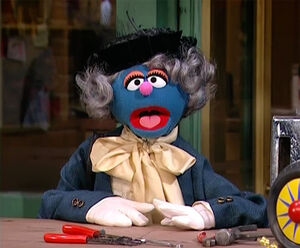 Mrs. Crustworthy is an elderly woman who has made recurring appearances on Sesame Street since season 37.
She made her debut in Episode 4116 as a Hooper's Store customer. She has since appeared at least once a season, earning her name in Episode 4141.
In the latter, she takes her toaster to the Fix-It Shop for repair, for the Toast Lovers' Society's luncheon. She desperately needs it fixed, "or I'm toast!" When it takes a while to be repaired, she partakes in "The Toast Lovers' Participatory Popping Game", which is pretending you're a piece of toast in a toaster. The waiting pays off and the toaster is ready.
The character is mentioned on Fran Brill's Puppeteering Resume.[1] In fact, the character is based on an old woman who Brill knew as a child.[2]
Appearances
Sources