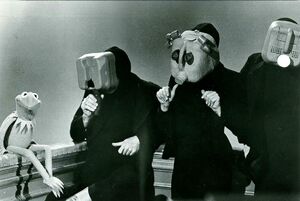 Mummenschanz is an experimental troupe formed in Switzerland. The group is made up of performers whose techniques include acting, puppeteering, expressive dance, and other forms of artistry. They mainly perform in black leotards, or other minimal attire, with creative masks. Members typically remain silent during their performances.
The original members were Andres Bossard, Bernie Schürch, and Floriana Frassetto. Other members have included Brian Muehl.
Mummenschanz guest starred on The Muppet Show episode 124 where they play faces created with pieces of paper and marker, a house fly, appear in a Talk Spot with Kermit the Frog, and stretching out their faces made of putty. At the end of the episode, Kermit reveals the players, unmasked.
On Sesame Street, they appeared in several inserts. In one segment, two performers wearing a cardboard box demonstrate the concepts of same and different by changing each other's appearance. In Episode 1108, the troupe appeared in several inserts pantomiming animals and objects including a slinky, a monkey, a frog, a head and tail, a clam, and a fly.
References
External links