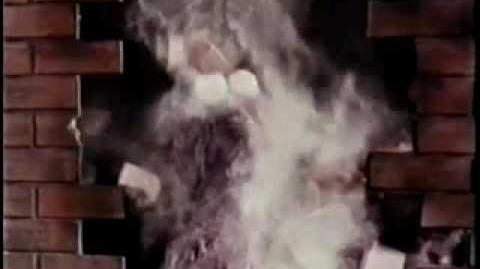 Jim Henson made a series of three commercials in 1969 for Frito-Lay, starring an early version of Cookie Monster, then called Arnold. Henson filmed two of the spots on March 11, 1969.[1]
In the commercials, a bald, humanoid spokesman named Fred tries to explain the difference between Munchos and potato chips: "They're thicker than potato chips, so they're crisper, with more potato flavor." While he's talking, Arnold the Munchos monster invades the scene, growling "MUN-CHOS!" The monster chomps on all the potato crisps he can get his hands on -- and in one commercial, he smashes through a wall to find more Munchos. The ads ended with the Spokesman saying the slogan, "There's more to a Muncho!"
These commercials established Cookie Monster's distinctive table manners (namely, jamming crunchy objects into his mouth and letting the crumbs fly).
After the three ads were produced, Henson had the opportunity to renew the contract. He chose not to, because at that point he was working on Sesame Street -- and that monster puppet was moving on to the next stage in his career.
The original contract contained a clause for Munchos to take ownership of any characters created for the ads, which Jim Henson disagreed with, insisting on ownership of his characters, and the clause was removed.[2]
External links
Sources