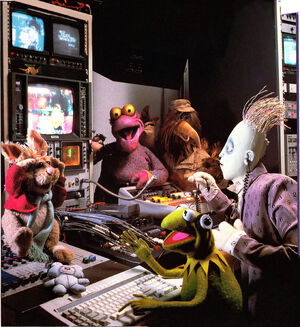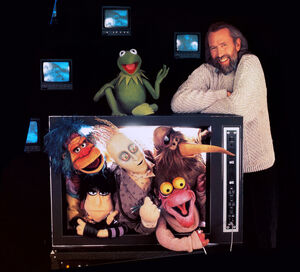 MuppeTelevision was the TV station run by the Muppets on The Jim Henson Hour. The station was capable of picking up television signals from throughout the universe, and it was up to Kermit the Frog, who served as director, to decide which shows the viewing audience would see.
Most of the acts were viewed on television monitors, while backstage antics happened in the Muppet Central control room. Just about every act would be introduced from the control room, in contrast to the previous Muppet Show, where characters would come on-stage to introduce acts. Also unlike The Muppet Show, while almost every episode had a human guest star, the episodes also featured other human characters, most notably Bootsie and Brad. Writer Chris Langham also portrayed a number of human characters in these segments.
Episodes
The first half of eight out of twelve Jim Henson Hour episodes were dedicated to MuppeTelevision, as well as the opening of Episode 104: Dog City and some scenes in Episode 110: Secrets of the Muppets.
Recurring Cast and Crew
Characters: Bean Bunny, Clifford, Digit, Gonzo, Kermit the Frog, Leon, Lindbergh, Link Hogthrob, Vicki, Waldo C. Graphic
(see also: MuppeTelevision Characters)
Writers: Jerry Juhl, Tim Burns, Barbara Samuels, Mark Saltzman, Bill Prady, Chris Langham
Performers: Jim Henson, Dave Goelz, Fran Brill, Steve Whitmire, Kevin Clash, Jerry Nelson, Dan Redican, Gordon Robertson, Rob Mills, Bob Stutt
Rebroadcast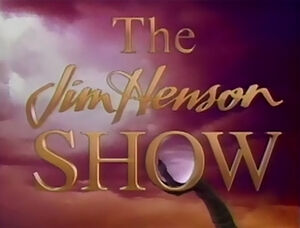 MuppeTelevision segments have been rerun on CTS in Canada, edited to exclude other portions originally broadcast with The Jim Henson Hour. Jim Henson's introduction is often trimmed to the portions relevant only to MuppeTelevision. The title is changed to The Jim Henson Show flipping the image at the beginning of the opening theme so that the crystal ball lines up with the letter O in "Show" rather than "Hour."
See also