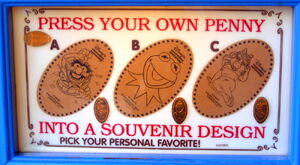 Muppet*Vision 3D pressed pennies are souvenirs available at the Disneyland and Walt Disney World theme park resorts, as a tie-in with the Muppet*Vision 3D attraction. Guests can use penny-pressing machines at souvenir stores near the attraction to make Muppet images out of pennies.
In the Disney California Adventure theme park at the Disneyland Resort, a machine at the Studio Store in the Hollywood Pictures Backlot area makes imprints with Kermit, Miss Piggy and Animal.
At the Walt Disney World Resort, Muppet*Vision 3D is located in the Disney's Hollywood Studios area. A machine there makes pressed pennies with images of Kermit, Miss Piggy and Fozzie Bear.
Disney California Adventure pennies
Walt Disney World pennies