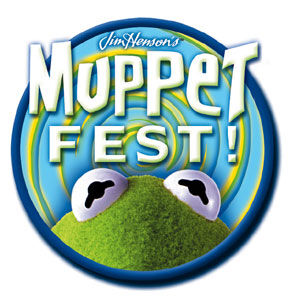 MuppetFest was a two-day convention for Muppet fans held on December 8th and 9th, 2001, in Santa Monica, California. The convention, a celebration of the 25th anniversary of The Muppet Show, included two days of panels and presentations, and a live show -- The Muppet Show Live -- at the end of the second day.
The guests included Martin Baker, Bill Barretta, David Barrington-Holt, Claudia Black, Kevin Clash, Dave Goelz, Jane Gootnick, David Gumpel, Brian Henson, Jane Henson, Lisa Henson, John Kennedy, Jim Lewis, Jerry Nelson, Ritamarie Peruggi, Michael Polis, Karen Prell, Charles Rivkin, Craig Shemin, Kirk Thatcher, Amy Van Gilder, Steve Whitmire, and Paul Williams. Greg Berg of Muppet Babies could also be seen at some exhibits as well.
Muppet characters who appeared included Bean Bunny, Bunsen Honeydew, Clifford, Floyd Pepper, Gonzo, Johnny Fiama, Kermit the Frog, Young Kermit, Miss Piggy (on tape), Pepe the King Prawn, Phil van Neuter, Rizzo the Rat, and Sal Minella. From outside The Muppet Show family of characters, Bear, Elmo and Mr. Tinkles appeared. Additional characters were featured in The Muppet Show Live and/or were on display.
See also
External links