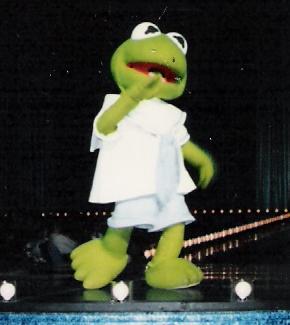 Muppet Babies: Magic Box was a live stage show based on Muppet Babies, produced by VEE Corporation in 1987.
The script and lyrics were written by Barry Keating, who once said "It's as silly and crazy and affectionate an idea I could come up with."[1]
Included in the show are Kermit, Piggy, Gonzo, Fozzie, Animal, Rowlf, Scooter, Skeeter, and Nanny.
The Muppets are assigned to clean the nursery, collecting trash in a huge, empty box Nanny provided. The character begin riding the box to their various fantasies, while a big clock in the corner periodically brings them to order so they'd finish cleaning in time.
First act:
Wild West, with Sheriff Kermit leading Piggy Mae across the desert in a carriage (the box),
in the ocean, in a submarine (the box),
prehistoric days, with three of the babies as monsters, via a time machine (the box),
the song "Tutti Frutti", from a radio (the box)
Second act:
Man in the Moon helps free Captain Kermit from Space Villain Piggy and the Static Klingons, in a Star Trek parody,
Baby Piggy fantasizes about marrying Kermit, when both are adults,
When the babies have cleaned their space, they get a surprise from Nanny, as promised.
See also
Sources
↑ "THE MUPPET BABIES SWING THEIR PARTNERS IN A LIVE SHOW", The Philadelphia Inquirer, May 6, 1988
External links